The Lance Tries: Korean Barbeque—Phoods, Photos, and Phozilla
Kang Ho Dong Baekjeong Palisade Park, NJ Review
Every day is a scramble to find better food: some might taste delicious and some might not. In search of better quality and better tasting food, I am on a mission to find the best places to eat and to take artsy food pics in the North Jersey area. 
Koreans have such a wide variety of different foods in their culture; however, the most iconic type of Korean cuisine definitely has to be Korean barbecue, infamous for making people eat as much as they can without throwing up.
There have been several Korean barbecue places that have sprung up here and there around the North Jersey area, but there hasn't been a restaurant as popular as this one. Kang Ho Dong Baekjeong is a Korean barbecue restaurant that has several locations spanning from New York all the way to Los Angeles. Fortunately enough, there is one in Palisades Park, New Jersey.
As soon as I walked in, I noticed the line of people waiting to grab a spot even though it was a weekday. However, the service was quick, and I got a table in a matter of 10 minutes or so.
The interior of the restaurant is decorated with pictures and cartoons of Kang Ho Dong, the famous Korean celebrity who owns the restaurant. Apart from the dozens of photos of this obese Asian man, the tables were another thing that caught my attention. This restaurant grilled the meat in front of you in a unique way. A tube-shaped ventilator is connected from the ceiling to right over the actual grill. This way, the steam from the barbecue is sucked into the tube instead of spreading all over the customers, preventing them from intensely smelling like beef as they leave the restaurant.
The restaurant was loud and chaotic as customers had to yell at each other in conversations over the loud music. It was basically any other Korean barbecue's environment, but on steroids.
And finally, the food. I ordered the Large Beef Combo at the price of $100. First, they came out with some Chadolbaegi (thinly shaved beef brisket), followed by Kot Sal (unseasoned boneless short ribs), and finished it with the famous Kalbi (marinated beef short ribs).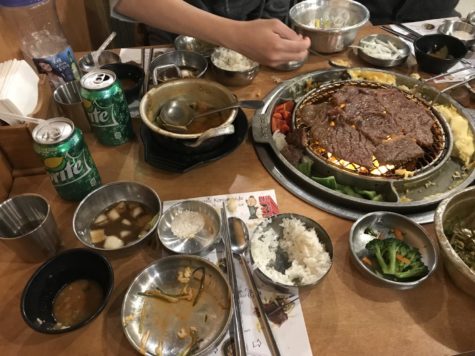 The Chadolbaegi was very delicious and felt lighter than most meats. It paired well with the soy sauce mixed with onions and wasabi , which created a salty, yet slightly spicy, taste. The Kot Sal was thickly cut, kind of like steak, and had a much more chewy texture. Due to its thickness, it was more juicy and had more flavors, so there was no need for additional sauce. Although both meats were delicious, my favorite was the Kalbi. As a Korean, I am a huge fan of Kalbi, and this one was perfectly marinated: not too sweet, not too salty. It was cut at a good size, small enough to eat in one bite but large enough to get enough flavor.
Overall, I give Kang Ho Dong Baekjeong two big thumbs up. They created a new way of serving the same traditional Korean barbecue. Of course, it isn't the best tasting barbecue that I've eaten, but it is still pretty good for the speed and the quantity that the restaurant is serving everyday. Although it is considered slightly expensive, it filled my entire family of 4 people and is good quality meat, and I would definitely return to this place. The restaurant itself is also very loud and crazy, but the dining experience was not too bad, although I did have a minor headache afterwards.
Service: 7/10 (Aside from the chaos, the servers were incredibly kind and welcoming. They're quick to respond, which makes the entire dining experience much better.)
Decor: 6/10 (Pictures of the same fat Asian man on every wall isn't the best way to attract customers)
Food: 8.5/10
Atmosphere: 7.5/10 (Depends on if you like loud or quiet places to eat. For instance, I like to eat in places that aren't too loud or too quiet)
Overall Rating: 7/10
Kang Ho Do Baekjeong is located at 329 Old Bergen Blvd, Palisades Park, NJ 07650
Check out @phozilla on Instagram for more photos.