A New Light at College Night
NVOT hosts the annual college night fair
With applications and deadlines for college due in a couple weeks (and/or months for seniors), the college fair hosted at NVOT couldn't have had better timing.
On Thursday, October 18, the annual college night fair was held from 7:00 pm to 9:00 pm. This event, which was in both the north gym and the north cafeteria, allowed students from grades 9 through 12 to be able to learn more about and talk to representatives from over a hundred colleges and universities from all over the nation.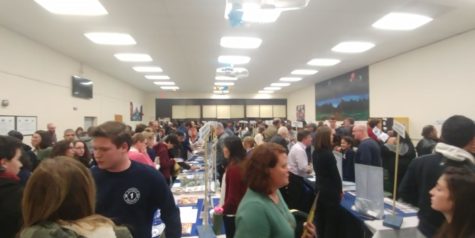 Students who attended were able to learn more about the college admission process and the certain requirements that these schools held. Freshman Elliot Chernov claimed, "I was really able to learn more about these colleges, and what I could do as a freshman to prepare for the college application process," coming ahead in the nearby future.  
Junior Grace Kim also said that coming to the college night fair was "a great way for students [like myself] to discover new colleges."
Even though seniors are currently finalizing their applications, many of them attended this fair to have a last chance to find application opportunities. Senior Clare Buckley stated that college night "really helped students, especially for seniors, to make their college decisions."  
The representative from Utica College described, there is "no better way for students to explore schools from all over the country."
This fair overall not only helped students gain more knowledge about colleges but also helped students prepare for the college process as well.