The First Concert Falls on a Thursday
NVOT presented its annual fall concert
A melodic sound fills the auditorium: a sweet sound pleasant to the ear emerges from the flute section. The rest of the concert band joined in to continue the piece.
On Thursday, November 1 at 8 pm, NVOT held its first concert of the school year. This event, which was located in the auditorium, welcomed families and friends to listen to the pieces that the music department had worked on since the beginning of the year.  Led by Band Director Amy Wilcox, the concert band, orchestra, and the wind symphony performed many pieces arranged by different composers. The school choir, conducted by Music Department Supervisor Jonathan Meszaros, also performed many pieces. The Golden Knights Marching Band, additionally directed by Wilcox, played their award-winning pieces as well.
Wilcox stated, "The students did a great job and played a great repertoire on Thursday. We're off to a great start."
The performing groups played the following variety of pieces:
Concert band
Abracadabra

by Frank Ticheli

Quad City Stomp

by Michael Sweeney
String Orchestra
Divertimento in D Major K.136

by W.A Mozart

The Emerald Falcon

by Richard Meyer
Choir
O Occhi Manza Mia

by Orlando di Lasso

Tunggare

by Stephen Leek

I Bought Me a Cat

by Aaron Copland, trans. Irving Fine

Esto Les Digo

by Kinley Lange
Wind Symphony
Second Suite in F

by Gustav Holst

A Walk in the Morning Sun

by Pierre La Plante

Foundry

by John Mackey
The Golden Knights Marching Band
Imaginarium

by Randall Standridge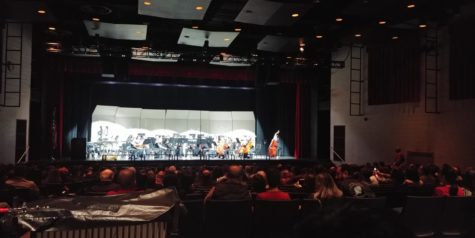 Freshman Daniel Zhao, who is part of both the concert band and the marching band, performed for the first time and reflected on his experience. He stated, "It was very exciting to show off what we worked on for the past two months, and also to see the upperclassmen perform as well. I got to see what the . . . music department was working on, and [I] look forward to performing with upperclassmen."
Senior Emily Walker, sectional drumline leader in the marching band, said, "It's fun getting to be the lead snare who starts the cadence while wearing this long black dress. . . People always go crazy for the marching band inside because it's just such a full sound with a new perspective."
Freshman Alexa Farah, a member of the choir, said, "The first time performing in the choir was all kinds of amazing. Everyone in class is just so supportive and welcoming, it made the first concert such an incredible experience."
Wilcox said that she is "really excited for the next concert," which will be the winter concert in December. She added, "It will incorporate lots of holiday music, so I am definitely looking forward to that. The wind symphony will be playing Sleigh Ride, and they will also be playing a combined piece with the choir for our annual playing of Hallelujah."
As the fall concert came to a close, the music department now works to prepare for their upcoming winter concert.