Bye Bye Mold Tappan
NVOT Re-Opens The Media Center
On Tuesday, November 13, NVOT re-opened the Media Center after cleaning it since the beginning of the year due to some recurring mold problems.
The Media Center, also known as the library, is a place where students go to read, do homework, study for tests, and use the printers. During the mold clean-up, the NVOT media center has lost 900 books and many of artworks that were hanging on the ceiling for nearly decades, claimed Mrs. Janice Cooper, the school librarian.
According to Cooper, "I was very sad about our loss of books and other things like artwork as well." She continued, "Right now I'm very glad to have the students back at the media center, and it's wonderful to be working here, but again I'm very sad about the huge loss we took."
Additionally, Cooper said, "I would love to have more student art" after many had to be taken down off of bookshelves and ceilings.
Senior Heather Yung mentioned, "The library was very different when I went right after it opened this year, which made it feel weird and empty. I hope that they could add more artwork soon."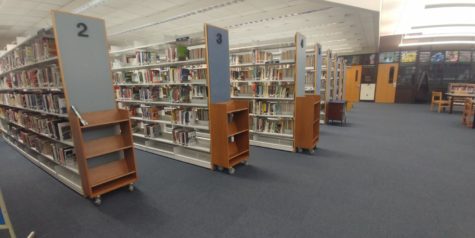 The first time seeing the library after its many months of being closed, freshman Sam Yi stated, "It was really big and a great place to finish up some work or study and the librarian was very welcoming and nice."
Also, for upperclassmen, it was a different experience not having the library to study or to print from the beginning of the year. Senior Emily Walker claimed, "I think it was very necessary" that the media center reopened. "I feel like I missed a lot of work during frees by staying in the cafeteria, but I'm grateful that it's open now."