Pasta La Vista, See You Saturday
Music Department's First Spaghetti Dinner
When snow began to fall towards the end of the school day on Thursday, November 15, many students were thrilled to go home, considering all after school and evening activities were canceled. Others, however, were not overjoyed. Choir and band members who had practiced for a special showcase were dismayed that their performance had to be rescheduled.
The music department originally planned to host a spaghetti dinner for the first time on November 15 as a fundraiser for the choir and band. Postponed to Saturday, November 17, the evening was filled with soft background music performed by students while enjoying a casual dinner. Even though the date of the event was changed at the last minute, many were still able to enjoy what the music department prepared. Held in both the north and south cafeterias, students in band, orchestra, and choir performed for both audiences.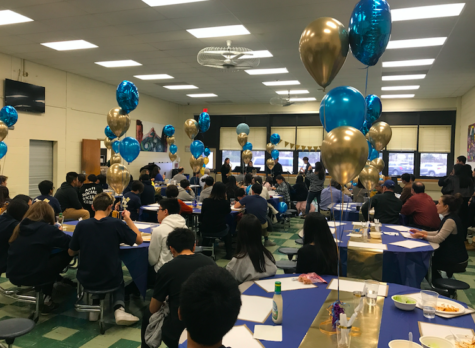 Senior Justin Lee said, "It was pretty cool and amazing to perform in front of others and to an audience that was very supportive."
"Everyone put on a great performance and enjoyed some food. It was overall a great time," a member of choir, sophomore Cora Hope, said.
Although the performers enjoyed the experience, Lee said that "there definitely would have been more people if it was on the actual day that they had planned for because a lot of people had conflicts." For example, he originally planned to perform as part of a saxophone quintet, "but two of our members were unable to come and so we had to get help from an outside musician," Lee added.
Hope said, "I am very proud of the turnout considering the date had been changed." Even with the last minute change of date, the audience nearly filled both of the cafeterias with students, faculty, friends, and family who enjoyed the classical and jazz music.
The music department hopes to continue holding spaghetti dinners in the future as a result of the successful turnout. Junior Morgan O'Rourke, a member of the choir, said, "I hope this event becomes a yearly event because it brings awareness to the progress that both band and choir have made during the school year."