Helping Those in Need
The EMS Club participates in annual Toy Drive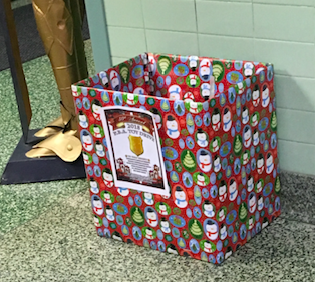 The EMS club began prepping during the week of November 27 for its annual Toy Drive, which usually lasts until mid-December. The EMS club has participated in the Toy Drive every year for the past four years.
Junior Aaron Denicola, club officer, described the event saying, "The EMS club is involved by collecting toys and sending them to the PBA toy drive coordinators. The Toy Drive is our big fundraiser of the year." He explained how the EMS club "participates in the Toy Drive in order to help those who may not be as well off as we are. It's a great way to give back during the holiday season."
Senior Elisheva Drillich, club officer, commented, "We wrap the toys and supply the wrapping paper," which the club members began doing earlier this week.
After the toys leave the school, Club Advisor Erica Sposa explained, "This is a county-wide initiative and there are over 70 police departments involved in collecting toys. They collect from all the local businesses and schools and bring truckloads of toys to the Closter Firehouse. They pull the fire trucks out, open the garages, and sort mountains of toys by age and gender." From there, the toys go out to local charities and families, and "representatives from the PBA take them to Sanzari Children's Hospital in Hackensack for the sick children," Sposa added.
"The first year, we actually went to the firehouse and we helped sort and box the toys for certain families and charities. It was an incredible experience," Sposa said. "Now, for the past couple of years, the PBA sends representatives to collect them from us downstairs in the hallway."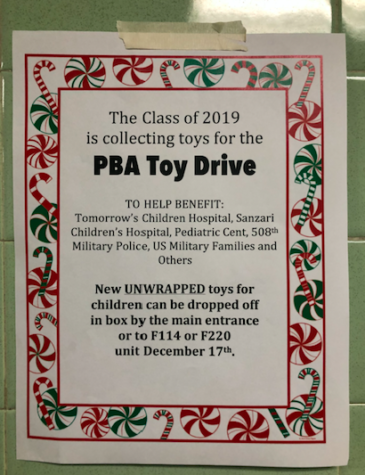 The senior class is also involved in collecting for the Toy Drive for the Holiday Fundraiser. Senior Dylan Monfried explained how the toys will also be "donated to Tomorrow's Children's Hospital,… the 508th Military police, and US military families" as well as to Sanzari. She added, "The senior class officers will be distributing the new unwrapped toys before the break."
Sposa commented, "If somebody brings in a toy, it doesn't matter if it's going to the EMS club or the senior class. It only matters that these kids who are sick or underprivileged get these toys."