A Midsummer Night's Dream in the Middle of Winter
Shakespeare Live performs a Midsummer Night's Dream for NVOT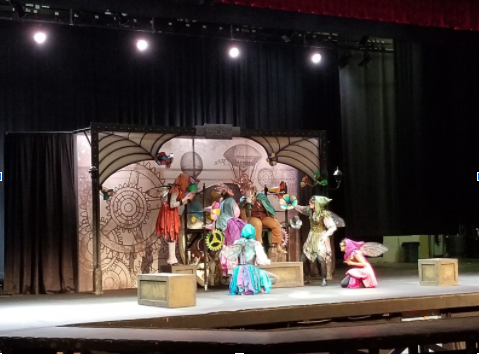 For the second year in a row, the acting company Shakespeare Live came to NVOT to put on a production of one of William Shakespeare's classic plays. On Wednesday, March 6, the company performed A Midsummer Night's Dream.
This event was put on for freshman and juniors only, and the underlying purpose of this annual event was to "allow every student an opportunity to see a live Shakespeare performance before they graduate,"  said District Supervisor of English Anne Paolucci. She and Jonathan Harris, District Supervisor of Related Arts, set up this joint project between the English department and the Theatre Arts department.
Paolucci stated, "While our English teachers do a great job of teaching Shakespeare's works, a student's understanding of and appreciation for Shakespeare are greatly enhanced by seeing the plays performed live."
Freshman Casey Symons said, "I really enjoyed this play- it was really humorous, and I also got a glimpse of what Shakespeare's plays were like."
Junior Eli Levenshus stated, "Overall, I really enjoyed the play. I thought the actors were very true to their roles and were expressive in their speech and interactions with other characters."
Next year, the same company will come and perform another play by Shakespeare for the rising freshman and junior classes.