Behind the Scenes of Chicago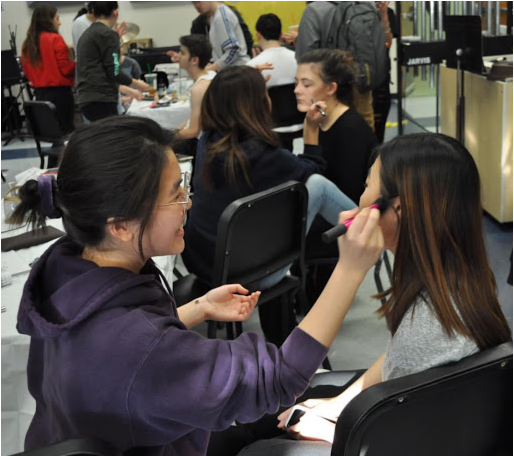 Actors change their outfits during and in between scenes of a play so quickly that it seems like magic, but it's not. It has to be fast. The backstage crew of NVOT's musical, Chicago, designed costumes, changed scenes, styled makeup/hair looks, and made set/lighting adjustments behind the scenes of the production.
Since the audience does not see the crew backstage, viewers might be inclined to underestimate the work that the crew does for school productions. In truth, the crew puts in the same amount of effort that the cast puts in for each school production. Costumer and junior Chloe Manenti stated, "The crew is just as important as cast, even if they are not recognized sometimes. If there were not committed people behind the scenes, then the show would not go on."
Students in the costume department take measurements of the cast members, tailor pieces when necessary, and adjust fittings. Costumers organize quick changes by helping the cast switch outfits for different scenes. These transitions can range from fifteen seconds to three minutes long. Quick changes make transitioning scenes easier for actors.
However, at times, quick changes can cause chaos backstage for the crew. Costumer and junior Ciara Leddy stated, "It's a lot of pressure to help someone completely switch an outfit in such a short amount of time. But, if the costumer and actor are able to work together to switch the costume, it shouldn't be too hectic."
The hair department helps the cast with different kinds of styles which take three to fifteen minutes long to complete. These crew members fit wigs on cast members and make the actors look normal under the stage lights. Students on makeup crew need to be able to create extraordinary effects like scars or wounds on the cast members, as well. "We need people who not only know how to do makeup or hair, or even both, but also want to put their hard work into it because it does show in the end- on opening night," junior Vanessa Veras, said.
The crew and the cast have equal importance when it comes to putting out the final product. A member of Chicago's run crew, freshman Ian McGreevy, stated that "there simply wouldn't be a play without the cast, but without crew it would be sloppy." The school's run crew controls scene changes: fast removing and adjusting of props or scenery. For Chicago, the run crew had about ten to twenty seconds during the acts to change the scenes, but during blackouts, they may have had a bit more time.
Sound crew is a major part of school productions, as well. Sound engineers prep the mics with new batteries and handle the soundboard. Assistant sound engineer and sophomore Abigail Greenberg said, "It is extremely stressful backstage between mics needing to be fixed or general mic switches." Assistant sound engineers will put mic packs on cast members and position the microphone piece on the actor's faces.  
Senior Zach Fleury performed as an actor in this year's production and worked on crew, as well. He was able to see a clear difference between the crew and cast. Fleury stated, "Crew and cast are completely different beasts. Crew is a lot of mental strain, figuring out measurements and angles when doing construction, and figuring out lighting cues and sound cues during the show." He continued, "Cast is a lot of physical and technical work: dancing for 7 hours on Saturdays and Tuesdays, working your hardest to get into dance numbers, then working even harder to make sure you get to stay in that dance number," he said.
Sometimes, the 'behind-the-scenes' aspects of a school production are overlooked, but without the backstage crew, the show would not go on.