Tall Girl Movie Face Off: Eve vs. Nia
SPOILERS. SPOILERS. SPOILERS. SPOILERS. SPOILERS. SPOILERS.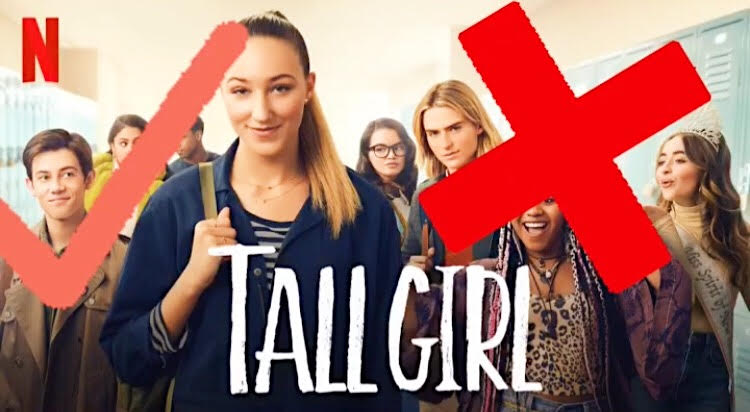 Summary:
Tall Girl introduces a teenager, Jodi Kreyman, who has many insecurities surrounding her "abnormal" height of 6'1". She feels like she is only seen as 'the tall girl' in high school and that it is her overall defining quality. However, after meeting and falling for an exchange student named Stig, her perspective on her life and herself takes a turn. 
Eve's Opinion: It wasn't AS BAD as I was expecting, and SOME things were good.
Nia's Opinion: It was HORRIBLY bad.
Concept/Storyline:
Eve: Tall Girl was really not AS BAD as I thought it would be. The storyline definitely drew me in right away. I find the idea of featuring an insecurity that some girls have–which isn't really ever talked about–pretty interesting. But, the problem revealed itself as soon as the movie started making it seem like Jodi cannot function in life just because she is a little taller than everyone, which is why everyone hates this movie. On a side note though, I loved Jodi's best friend, Fareeda, because she CONSTANTLY sticks up for her, which is really cute. 
Nia: It was a good idea with bad execution. The male and female leads are HORRIBLE. Jodi is a terrible, whiny friend who constantly ruins other people's happiness (due to the fact that she herself is miserable). She repeatedly disrespects Fareeda, who is constantly sticking up for her at school. On the other hand, Stig is a fake, disloyal boyfriend who cheats on his girlfriend (who he hates) MULTIPLE times. He is a self-obsessed attention seeker who craves popularity to an unhealthy degree. Plus, he is not even cute.
Acting/Cast: 
Eve: Unpopular opinion, but the acting was decent. First off, a lot of the people who were part of the cast were actually pretty good. We had Griffin Gluck from American Vandal and Angela Kinsey from The Office who are both naturally hilarious. I personally do not like Sabrina Carpenter, but I genuinely laughed during her scenes, so I appreciated her in this movie. The only two people who I absolutely cannot defend would be Ava Michelle (Cota) and Luke Eisner (Stig)–god awful actors, end of story. 
Nia: I'll give the directors credit for finding a relatively attractive cast; however, none of them can actually act. The scenes that were meant to convey emotion, sadness, or romance were either hilarious or just plain gross. It was almost as if the characters were heartless robots. I didn't feel moved at all and ended up pressing the skip button MULTIPLE times. I had to motivate myself to get to the end of the movie instead of giving up in the middle.
Ending: 
Eve: I thought the ending was cute…predictable, but cute, nonetheless. Yes, it could have been better, but what matters is that I did see the movie all the way through. Jodi gets her happy ending when she overcomes her own insecurities (by telling her classmates off, which I stood behind TOO much. Go off sis!) and gets the boy who ACTUALLY cares about her. 
Nia: One word: ew. Not only is the ending unsettling (Jodi NEVER apologizes to Fareeda), but it was also nauseating. One cringey scene leads to another and the next thing I know, Jodi is leaving prom looking like a Stegosaurus in drag stilettos. Giving up in the middle of the movie was definitely the better option. I should have listened to my gut. 
Rating: 
Eve: 7/10. Where the movie lacked, I feel like it made up for in other ways. Although some of the actors were terrible, others made it worth watching. The plot was ALMOST there, but not there ENOUGH, yet it stayed entertaining. The movie was based on being infatuated with people based on looks. Not to mention, it was too predictable, but I feel like it honestly came together in the end nicely. It's a good movie to watch when you do not want something too serious and just want a quick laugh. 
Nia: 1/10: 'Twas painful to watch. I couldn't wait for it to be over the entire time. Every five minutes, I found myself checking the time to see if I was even HALFWAY through. With hopes that there would be a plot twist and the movie would suddenly improve, I kept watching. Surprise! It never got better. Tall Girl was a cringy, gross, flop that failed to convey its attempted message of self-acceptance and love having no boundaries.
Best Scene: 
Eve: Sabrina Carpenter, who plays Jodi's knife-throwing pageant queen sister, and Jodi have a cute little heart-to-heart. Sabrina tells Jodi, "You mean more to me than any stupid crown."
Nia: Though Jodi's friend and not-so-secret admirer, Jack, is grounded and can't go to prom, he still makes it his goal to send his crush off with a BANG. Jack presents Jodi with a pair of men's size 13 drag stilettos so she can be even taller. 
Worst Scene: 
Eve: The crate scene. WHAT was that? I liked the cute, little love factor behind it–THAT was FINE–but was the crate REALLY necessary? 
Nia: Stig and Jodi have a 'romantic' scene together where they are singing show tunes in the music room. Sadly, his voice is disgustingly bad and her lip sync attempt is SLOPPY. #gag