The Final Four
Countdown to the college football playoffs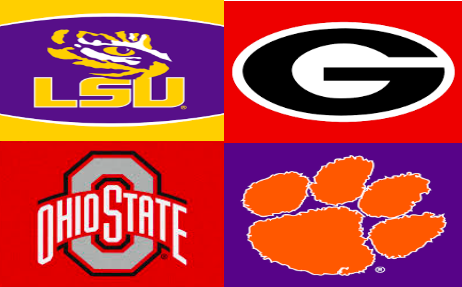 As the college football season reaches its end, the race for the playoffs continues to blur. It is week 13 now and the rankings remain constant after the major changes in the top five during week ten. All of the contenders for the playoffs are undefeated, making it harder to determine which team will make the cut.
The year started with Clemson at number one, after their win in last years' national championship. However this ranking only lasted a few weeks, and Clemson plummeted as low as number 5 after strong performances from the competing teams. The drop in ranking was also due to their quarterback, Trevor Lawrence, having a few bad games and doubling his interceptions from last year. This came as a shock to college football fans since he was predicted to be the best quarterback in the country at the start of the season. After one week at number five, Clemson was able to jump back up to number three, mainly due to Penn State and Alabama losing two weekends ago breaking their undefeated record. 
This season LSU has held onto its number one spot with consistent performances and a huge win against Alabama. LSU at number one is a surprise as Alabama has been number one in the college playoffs for four of the past five years. These consistent wins not only put LSU at number one but also put its quarterback, Joe Burrow, at the top list for winning the Heisman. 
With Alabama most likely out of the top four for the rest of the season due to Tua  Tagovailoa dislocating his hip, and also Penn State out of the top four as well that leaves Ohio State at two and Georgia at four. Ohio State's high ranking has come from solid performances and limited weaknesses resulting in almost every game being a blowout. Georgia, on the other hand, gained its number four spot by being the only team in the top four that isn't undefeated, after losing to South Carolina a few weeks ago. However, with its last three games ending in a shutout, proving that Georgia has one of the best defenses in the country. 
With the playoffs approaching, every game counts. Later in the season, as the games become more difficult, the stakes grow higher, and rankings will continue to shift.