Metamorphoses Makes a Splash!
An overview of 2019's fall drama
Live water, Greek mythology, and passionate storytelling were all part of 2019's fall drama: Metamorphoses. Each actor was required to play multiple characters while reenacting a modern take on ten Greek myths. Director Susan Van Buskirk said, "These stories have been around for 2,000 years and we are still telling them, which is kind of cool." The production had it's opening night Friday, November 15.
Metamorphoses incorporates real water into each story, as the actors performed around what appeared to be a giant pool. However, Van Buskirk revealed that they created the illusion by using, "a doggie pool, like a puppy pool, in the center, so when you see people fall and come up wet, that was the piece of water that they hit." The illusion was also dependent on the actors' performances and staging.
Sophomore Alexa Farah, who starred in the play, enjoyed acting with the water saying, "It was so cool! I think the water really brought an element of excitement throughout the entire cast." She continued, "Sometimes our hand motions and gestures don't really cut it, and the water was something I was able to use to express a lot."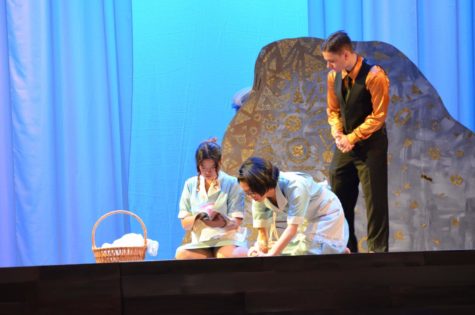 However, the water wasn't just for show. According to Van Buskirk, water is significant in the story of Metamorphoses. "If you think about a lot of initiation rituals throughout history…there's that sense of newness and water symbolizing rebirth," she said.
Sophomore Olivia Mimeles, who was on the production team, said it was "a lot different from anything [she'd] done before because [she's] usually on cast, so it was really a fun experience to try something new." Even though it required a lot of hard work, she said, "everyone was really proud of it in the end."
Van Buskirk had two goals for the actors this year: "I wanted them to be storytellers, how they would tell the stories in a way that the audience understood it, and I wanted them to engage their bodies in different ways." 
This production required a lot of hard work from the cast. Farah said, "This show really captures an element of storytelling that other shows don't." According to Farah, the cast worked on understanding their characters and stories. It helped them, "as actors learn how to better portray these characters, through such difficult pieces of literature."
According to Farah, Metamorphoses was challenging yet rewarding. "I am so beyond proud of what we did…this was such an accomplishment in itself, putting together a show like this, and I'm really proud of everyone who worked so hard to do so."