Rock is on a Roll
Two of the Greatest Rock Bands are Back On Stage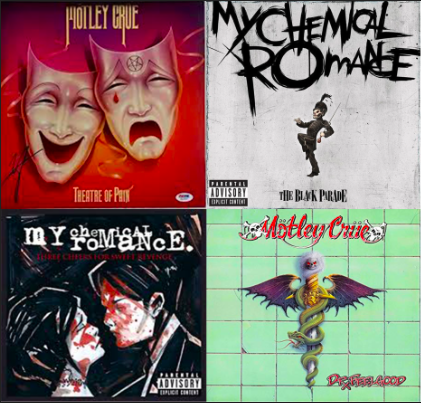 If you're anything like me, you probably had an emo or rock phase in middle school. Well, guess what Mom? It's not a phase, 2000's punk band My Chemical Romance and 80s classic rock band Mӧtley Crüe are back.
The two iconic rock bands have made unexpected comebacks in the hopes of enticing past and future fans. Recently, the bands have announced their comebacks to touring after fans demanded a return to the stage. 
Six years after My Chemical Romance's sudden and unanticipated break, the members have linked back together to give the world another "welcome to the black parade." 
My Chemical Romance was a popular 2000s pop-punk band with infamous rock anthems like "Welcome to the Black Parade," "Teenagers," and "Helena." The band, beloved by fans of all generations, shows how their ageless music lives on. 
Around 6:00 pm on October 31, the band teased a new, mysterious black profile picture with a white lit candle. Fans suspected there would be a comeback, but after an underwhelming tease in 2016, they didn't want to get their hopes up. 
In the hours to come, the band posted multiple new logos on their Instagram that when put together spell MCR. Fans grew more excited as the revival of the band became more promising. Then around 7 pm, the band announced their official return with a show scheduled for December 20 at Shrine Expo Hall in Los Angeles, CA. 
Additionally, classic rock band, Mӧtley Crüe, announced their reunion on November 18, 2019. The band said, "Almost 6 years after signing a cessation of touring agreement, the contract is off the table because a whole new generation of crüeheads are relentlessly demanding for the band to come back together." 
Mӧtley Crüe was an infamous rock band from the 1980s that grabbed the hearts of thousands of people amongst different generations. The band had many successful songs such as "Kickstart My Heart," "Girls, Girls, Girls," and "Home Sweet Home." The band has found a rising number of fans specifically because of their song "Home Sweet Home" which was featured in the soundtrack of the popular Netflix series, Stranger Things. 
After playing together for nearly 35 years, the Motley Crüe said their goodbyes and had not spoken since December 31, 2015. However, the band reconnected during the making of their Netflix biopic, The Dirt, and decided that it was time to blow up their contract. The band then posted a video to their website, lighting their contract on fire and watching it explode. 
These iconic bands reunions have fans eagerly waiting to find out more about what's next for MCR and Mӧtley Crüe.