Championship Weekend
College football recap part two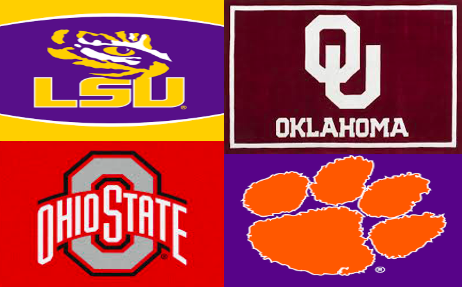 The wait is over and the final four have been decided! Championship weekend has set up Louisiana State University (LSU), Ohio State, Clemson, and Oklahoma for the college football playoff. The playoff games are on December 28 which gives the teams and fans about a month to prepare for these hopefully competitive and exciting games. Each one of these teams is wanting to prove who is the best football team in the country. 
All power five conference championships were actually important to this year's final rankings with the ACC, Big 10, SEC, Big 12, and Pac-12 championships all having potential playoff teams. 
One of the least eventful games was the ACC championship, Clemson against Virginia. Clemson gave a strong performance, showed a reliable offense, and scored 62 points against a top 25 team. Their defense also has proven to be worthy for the top four as they were able to hold Virginia's quarterback, Bryce Perkins. This score difference is different from their previous huge wins as they actually had a competitive team to play against, which is not very common in the ACC. This is what solidified their spot at number three. 
The SEC championship was another game that didn't have much excitement, as LSU easily beat former number four, Georgia. This huge win against Georgia pushed LSU to number one. Their quarterback, Joe Burrow, solidified his Heisman campaign scoring 37 points against Georgia. This was especially impressive since Georgia was said to have one of the best defenses in the country. This game also bumped Georgia out of contending for the playoff, making room for Oklahoma at number four. 
The Big 12 Championship was Oklahoma against Baylor. This was an exciting game as these two top-ten teams that even went into overtime, and there wasn't a 20+ point win like in the other championships. Oklahoma was able to make number four due to them having a good enough season and talent to beat out the other teams in the top ten.  
Oklahoma was the last team with a chance to be number four after Utah lost to Oregon in the Pac-12 championship. If Utah won this game, they would have had a chance at making the playoffs, which would be a flashback for Utah as the last time they were in the championship was in 2009 against Alabama. It would have left the committee with a difficult decision for who should be number four, but Oregon made that decision for them. 
Lastly, the Big 10 championship was more of a nail-biter than Ohio State fans probably wanted. Ohio State was down the whole first half of the game, which isn't a common thing for them, and their offense gave one of their worst performances of the season.  As a result, they were pushed down to number two and will face Clemson, a deed that both LSU and Ohio State were trying to avoid. 
These games were the last showings for these teams until they face off in the playoffs. LSU will face Oklahoma in the Peach Bowl and Ohio State will face Clemson in the Fiesta Bowl. All of these teams are having impressive seasons which will prove to make the games more interesting and competitive. Soon we will find out, who is the best college football team in America.