The Lance Tries: Popeyes' Chicken Sandwich
Does the famous chicken sandwich live up to the hype?
When Popeyes first came out with their original fried chicken sandwich on August 12, 2019, it was just a chicken sandwich. But, as people started to try it, the buzz about this sandwich swept the internet 
It got so popular that about two weeks after Popeyes released it, they ran out. You could no longer walk into a Popeyes without fighting someone to try and get a sandwich, that is if you were even willing to wait in the lines that went out the door.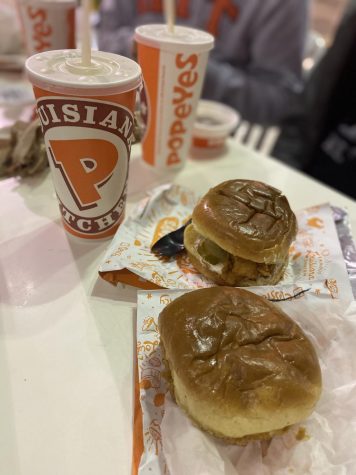 Popeyes eventually relaunched their chicken sandwich on November 2, and after the hype calmed down a bit, the three of us decided that we had to try it for ourselves — we had to find out what all the hype was about. 
We ventured to Palisades Center Mall in West Nyack and headed straight to the food court, excited to see if this sandwich could live up to its expectations. 
We ordered the original sandwich which consists of chicken, pickles, and mayonnaise on a brioche bun. We also tried the spicy chicken sandwich that has the same chicken and pickles but is completed with the Popeyes' spicy mayo, rather than regular mayonnaise. 
Thankfully, the line was manageable as the crowd had settled down a bit, so we didn't have to wait long before getting to sit and try the sandwich.
After biting into it, and taking a minute to soak it all in, the three of us all reached the same consensus: it's average. 
The buttermilk chicken was crispy on the outside, tender on the inside, and the pickles and mayo (both non-spicy and spicy) complimented it well, but we never experienced that "ah-ha" moment where we said, "wow this sandwich really is to die for" (pun intended – people did get injured trying to get this sandwich). 
We did enjoy our overall experience, and all three of us would go back again, but the sandwich simply did not live up to the hype. We were all expecting this to truly be the "life-changing" sandwich that we had heard about, and quite frankly, it just didn't make the cut.
While we didn't think the sandwich lived up to the hype, here are seven NVOT students' opinions: