School = Canceled… So it's Netflix Time!
10 Netflix Shows to Binge While Coronavirus is a Thing
Coronavirus is outside, school is online, and you are stuck inside. What do you do? Binge-watch Netflix, obviously.
To save you hours of perusing through titles and genres, we have taken it upon ourselves to compile a list of shows that you should start binging so that being locked up with your family for weeks doesn't drive you to complete insanity.
(Don't worry, there are no spoilers!)
Whether you're a loyal fan who desperately waited for season three to come out or new to the show completely, On My Block is definitely worth checking out. The characters are a group of high school students who each have their own challenges and problems to overcome. I can confidently say that there is at least one character for everyone to relate to (ahem Abuelita). With both hilarious and heart-wrenching scenes that keep you hooked, binging On My Block doesn't feel like a chore and you'll be sad when you reach the end of each season.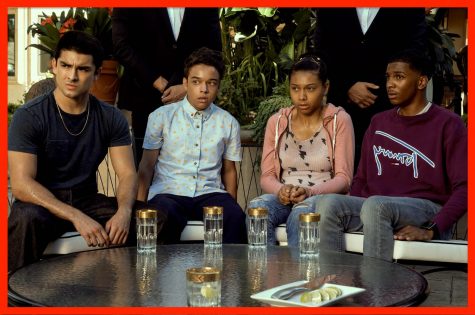 2. Cheer
Cheer follows Navarro College's cheer team as they fight their way to compete at the national championships. This show gives the audience a look past the glitz and glamor of competition cheer and shows the hard work, physical demand, and sacrifices cheerleaders face. Although centered around the concept of cheer, the show follows team members who make the show more than just your average competition-centered program. If you like drama, emotional backstory, and a heartwarming example of finding a family in unexpected places, Cheer is perfect for you.
3. The Circle
To be honest, The Circle would be nothing without its characters. Not saying it's a bad concept–eight people in an apartment building with no form of communication except through texts–but it is the people who make it stand out. Having laughed, cried, and screamed through the drama that went down, I would recommend The Circle to any reality TV-lover in a heartbeat. Think Big Brother, but the people coming in can either choose to be themselves or act like someone else. Whatever they think it takes to stay and win $100,000. Perhaps it can even be considered a quarantine in and of itself… making this the perfect time to stream.
4. Love is Blind
It all starts with the question: is love truly blind? This series begins with 15 men and 15 women who are all looking to settle down and get married. What's the catch? They cannot see each other while they speed-date. Each couple gets to know each other from their own isolated pods. Eventually, if they have made connections, they will get engaged, meet each other face-to-face, and be sent off to Mexico to put their relationship to the test. There is no shortage of drama and surprise in this one-of-a-kind series.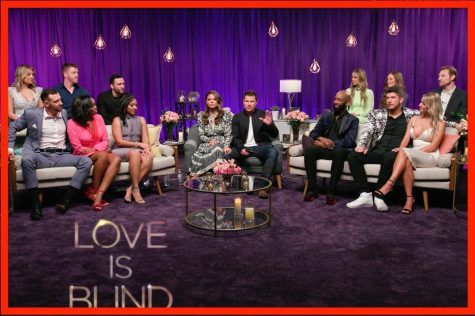 5. The Haunting of Hill House
If you're a fan of thrillers and mystery, The Haunting of Hill House is the show for you. It fluctuates between flashbacks and the present time and follows the story of a family of seven. The siblings come together years after their haunting childhood to deal with past tragedies. There is no shortage of questions to ask and mysteries to solve. 
6. The Office
One word: iconic. Whether you're happy, sad, or just plain bored, there's an episode of The Office for you to connect with. You can be in any mood, and have this show playing in the background. For those of you who are new to The Office, which is rare, the mockumentary follows the everyday lives of the 9 to 5 workers at the Dunder-Mifflin Paper Company in Pennsylvania. By season two, you will be quoting Michael Scott on the daily.
7. Anne With an E
Anne With an E, which is based on a classic novel Anne of the Green Gables, follows a late-1800s Anne through her teenage years after being adopted from an orphanage. This show, remarkably, gets better with every season. In fact, it made such an impact on its viewers that there was a #RenewAnneWithAnE movement on Twitter a few months back, and yes, it is completely worth the hype. If you like TV shows that make you want to cry because of the heartfelt content, don't hesitate to give Anne With an E a watch.
8. Derry Girls
Derry Girls is the typical teenage comedy made even funnier by the character's strong Irish accents (and I mean so strong that subtitles are 100% necessary). Derry Girls follows Erin and her four friends through their high school years in 1990s Ireland during the tail end of The Troubles conflict. It shows their lives and all of the messes they find themselves in, with a comedic take on their experience in the midst of the confusion. If you want something light-hearted that will make you laugh, Derry Girls is worth checking out.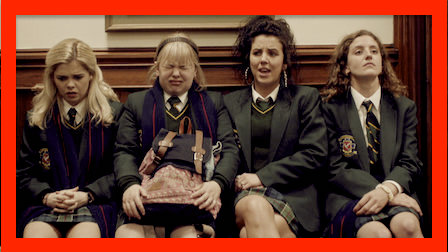 9. I Am Not Okay With This
I Am Not Okay With This is Netflix's newest edition to their original content, and it does not disappoint. It follows Sydney, an angsty high schooler with a strange new supernatural ability, and Stanley, her neighbor who is perceived as 'weird' by his senior class. If you're looking for a fresh take on the typical 'high school introvert with a hidden secret' idea, I Am Not Okay With This is something you should try; you WILL be on the edge of your seat.
10. All American
All American follows the life of your not-so-average high school student, Spencer James, a South Crenshaw High student with an undeniable talent for football. He is given the opportunity of a lifetime when Billy Baker, coach of the Beverly Hills high school football team, recruits Spencer to play for his team. He experiences hardships while trying to maintain a life in Beverly Hills, as well as South Crenshaw. If you like drama shows revolve around high school conflicts, sports, and relationships, definitely give All American a watch.