Shine On Fuller
NVOT Alum Jordan Fuller gets drafted to the National Football League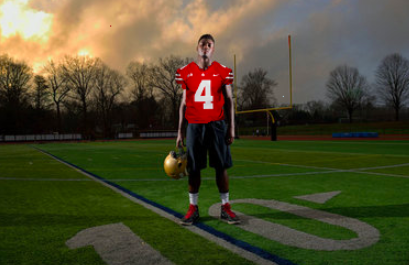 "With the 199th pick in the 2020 NFL draft, the Los Angeles Rams select . . .  Jordan Fuller!"
Jordan Fuller, a 2016 NVOT graduate, was chosen by the Los Angeles Rams, an NFL team, in the sixth round of the 2020 draft this past April following in the footsteps of his brother Devin, a 2012 NVOT graduate who was drafted by the Atlanta Falcons in 2016. 
Jordan had a stellar high school and college career. Throughout high school, he was a four-star athlete, earning prestigious athletic accolades like 2015 NJ Gatorade Player of the Year and 2015 State Player of the Year. 
Athletic director Thomas Kaechele said, "Jordan was one of the most prolific student-athletes to grace the hallways of Northern Valley Old Tappan High School. Coaches have the opportunity to coach a Jordan Fuller once in their lifetime. Jordan elevated all of our athletic programs. During his four-year presence, the attention and notoriety that our school received benefited all of our student-athletes."   
Ending his high school career as the 10th best cornerback in the nation (by Scout.com) in 2016, Fuller decided to continue his football career at Ohio State University. 
In his four years as a collegiate student-athlete, Fuller continued to impress. He was an Academic All-American and also a part of the First Team Big Ten Conference in 2019. He pushed himself on the field, but Fuller was also a well-rounded student off of the field. He was named the 2019 National Football Foundation Scholar Athlete, and was a finalist for the William V. Campbell Trophy, which is known as the "Academic Heisman."
NVOT head football coach Brian Dunn said, "Jordan is an incredibly talented athlete but also a very intelligent and hard-working student. His accomplishments on the field and in the classroom at NVOT were at an elite level, but more importantly, he is a young man of outstanding character and integrity."
For Fuller, who is now in rookie training, NVOT meant as much to him as he did to it: "I couldn't have had a better high school experience honestly. Being able to represent a school that showed me nothing but love is special to me. Going to OT was one of the best decisions I've made in my life. I can't thank all of the people who were a part of my journey enough. We're just getting started!"