The Lance's Declassified School Survival Guide 2.0
24 tips for the class of 2024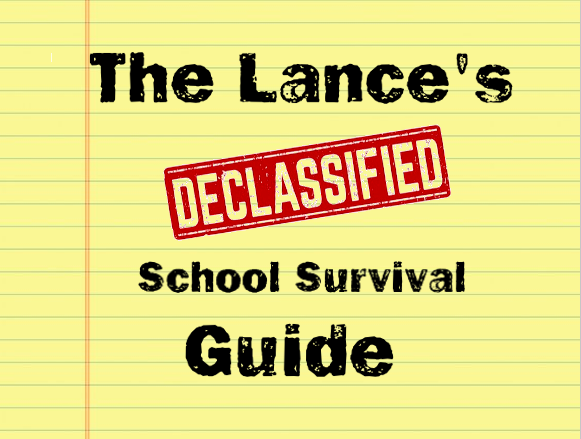 The 2020-2021 school year is a year like no other—and for the freshman class, NVOT is brand new territory. Without a traditional introduction to the school, many freshmen are not only finding it difficult to navigate their way through the one way hallways, but high school in general. While The Lance staff has also never entered NVOT during a pandemic before, we do have 24 tips for the Class of '24 that might help you succeed. 
1. Don't be afraid to make new friends! While you may want to stick to your friends from your middle school, new friends lead to new experiences.
2. Make a group chat with your class. It's a great way to get to know your new classmates and communicate about assignments.
3. Always do your homework right when you get home. You definitely don't want to run into problems at 11 pm with your homework, and not be able to ask your teachers or friends for help.
4. Always take screenshots of your submissions. This way, you always have proof that you submitted work.
5. Keep track of your work on a planner. Whether it be typing out your work for the day or using a physical planner, this will help you manage your time. 
6. Join new clubs and sports. Not only will you have something enjoyable to look forward to at lunch or after school, but you will also get closer with new students (especially the upperclassmen).
7. Don't try to stack your extracurriculars. Besides the fact that you might overwhelm yourself, colleges want to see you commit to a few clubs that pertain to your interests and that you will dedicate time too. Quality over quantity.
8. Take on leadership positions. Once you've found the clubs that you are really interested in, apply to be an officer! Taking on these responsibilities in high school shows colleges that you have the ability to be confident, lead by example, and cooperate with your peers. If you want to become an officer for your class this year, you'll get an email about elections that are usually in November. If you want to be an officer for a club, the application process happens at the end of the year.
9. If you play a sport, don't change in the North Gym locker room. To prevent crowdedness in the locker rooms, upperclassmen are designated the North Gym. Trust us on this one and stick to the South Gym. 
10. Try to get to sleep early. Do your best to get those 8 hours of sleep because once we get back to a regular school schedule, that 7:40 am bell is brutal. 
11. Establish a good relationship with your teachers and guidance counselors. Schedule a meeting with your counselor whenever you are stressed and visit your teachers during office hours for help on an assignment.
12. Do not worry too much about your GPA. While freshman year is important for your GPA, you should just try your hardest because you still have three more years to grow.
13. When walking through a door, walk through the one that is on YOUR side. There is always a lot of commotion in between classes, so when walking on the right side of the hallway with people coming towards you on the left side, use the right (no pun intended) door. Just do it. 
14. Clear out your binder at the end of the quarter. It will get really heavy and messy, so this is always great to start fresh.
15. Don't plagiarize. While it sounds cliche, the consequences are really severe in high school and it is easy to not even realize you're doing it. Make sure to read the NVOT plagiarism manual for more details.
16. Always use credible sources for your papers. There are great databases such as EBSCO and Gale on the Media Center Haiku page.
17. Take advantage of the Math and Writing centers. They are an invaluable resource for upcoming tests/papers.
18. Make sure your calculator is always charged. You don't want it to die during a test. Trust me on this one.
19. Always bring headphones. You never know when your teacher is going to ask you to watch a video during class and sometimes you can get points off for not being prepared.
20. Don't be late to class. If you're marked tardy three times, you get a detention. 
21. Pay attention to lectures and presentations. It's easier to study for tests when you are comfortable with the information. 
22. Study in groups. When you have conversations about the information, it makes retaining it much easier.
23. Control what you can control. Try not to stress over things that are out of your reach. If you get a bad grade on a test, study harder for the next one instead of dwelling. This mindset will help you keep great focus throughout your four years of high school. 
24. Keep Reading the school newspaper. Then, next year take Journalism.