New Hybrid Schedule for Quarter 2
NVRHS announces the new schedule for this upcoming quarter.
In an email sent to the NVOT community on October 24, principal Bruce Sabatini announced the new phase 2 hybrid schedule that will take effect on November 9.  This new hybrid schedule brings some changes to the current one; however, the school emphasizes that they will continue to prioritize student and staff safety while still following the state guidelines set by Governor Phil Murphy.
Cohorts
During the first quarter, to ensure that the students and faculty could keep safe social distancing measures, the school was divided into two-hybrid cohorts, X and Y, and one fully-virtual cohort, V. For now, this cohort system remains, and students can choose to be in the hybrid or fully virtual cohort, as they did in August of this year. The form for fully remote learning for the second quarter closed on October 20, but parents can opt to switch their students from hybrid to virtual at any time during the quarter. However, if students choose to switch from hybrid to virtual in the middle of the quarter, they cannot switch back until after the quarter is over.
Schedule Cycle
One of the most significant changes for next quarter is the rotating schedule. Instead of the current two 90-minute classes per day, there will now be four 56-minute classes each day. To further minimize inter-cohort mingling, each hybrid cohort will meet two days in a row, the first day meeting with their AM classes (periods 1-4) and the next with their PM classes (periods 5-8), while the other cohorts connect remotely through Zoom. E-Days, the last day of the five-day cycle when all classes meet virtually, was fully removed from the schedule, allowing classes to meet more frequently. 
See the graphic below for a visual representation of the new schedule cycle:

Start and End Times
Currently, classes start at 8:15 a.m. and end at 11:35 p.m.; but starting next quarter, students will arrive for temperature checks at 7:40 a.m., and classes will start at 8:00 a.m. and end at 12:08 p.m., with staggered dismissals from 12:08 p.m. to 12:23 p.m.
See the full bell schedule below: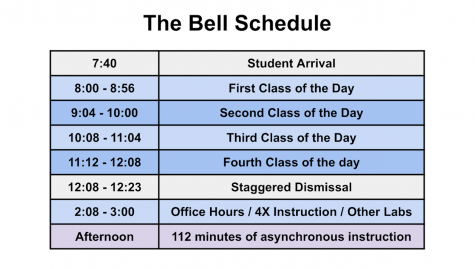 Instructional Time
In a regular school year, students have seven 56-minute classes each day, amounting to approximately 336 minutes of instructional time. This new schedule allows for the same amount of instruction time as a normal school year: 224 minutes of live instruction (either in-person or via Zoom) and 112 minutes of asynchronous time. 
However, similar to last quarter, all students must wear masks and maintain social distancing (six feet apart) at all times while in school.
More information and updates can be found at the NVRHS Restart website, and  COVID-19 NJ state guidelines and updates can be found at the New Jersey COVID-19 Information Hub.