A Week of Victories Against PV
Varsity sports compete against rival Pascack Valley
From the moment anyone steps into the halls of NVOT you know that our biggest rival is Pascack Valley. At every game against PV, both stands are packed full of loyal fans no matter the location of the game.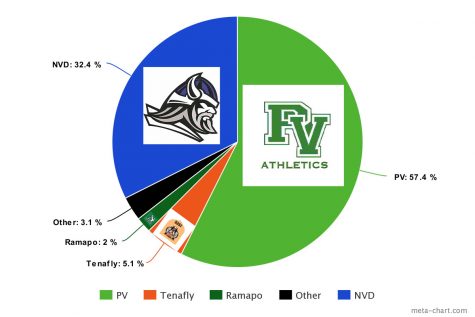 With this ongoing rivalry, this season, both the varsity soccer and varsity football teams defeated Pascack Valley in decisive games.
On November 6th, varsity football won their game 14-7 against Pascack Valley. OT was led by junior Charlie Ammatrula who had 165 total yards and a touchdown, along with the key help on defense from Seniors Niko Akos and Patrick O'Neill. Akos had 11 total tackles with an interception and O'Neill had eight total tackles and a sack. 
Middle linebacker Akos says of games against rival PV, "We work extra hard those weeks at practice kicking each other's ass training to play fast and play hard all 48 minutes of that game." 
In addition, on November 9th, varsity soccer beat Pascack Valley in a 4-2 win. OT was led by junior Tommy Curko who had two goals, followed by seniors Jon Mangano and Dylan Pak who had one each. OT goalie junior Evan Chrenko had 4 saves. To the players, this victory was a big moment in defining this long held rivalry.
"Both teams play for their team and even for their school." Pak, one of the team captains, mentions, "I think the PV games are important to us because it's a rivalry. The energy and environment in those games are very high."
To see left-back defender Pak go up the field and score a crucial goal for the team was a great momentum boost for OT. "Scoring in one of those games feels honestly like a dream," says Pak. "It feels good knowing that they were able to see you perform and score in big games like those."
For all NVOT's teams, proving themselves against PV are defining moments. "To the team and I, the rivalry games are very important," Akos says, "Those are the games you remember and the games everyone asked you about because everyone knows the importance of that game."