NFL Honors Awards Prediction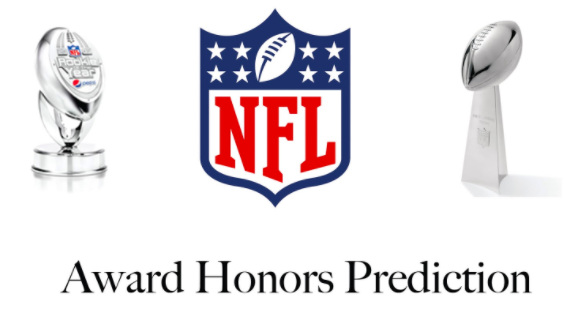 We are officially 11 weeks in the books for the strangest NFL season on record. This season has shown it all. From the empty stadiums to the teams and players missing time for Covid-19, the season has not failed to impress. As the season progresses, some elite players have started to set themselves apart from the rest of the pack. These are players who elevate their teams far beyond expectations. The Lance shares their NFL Honors awards predictions.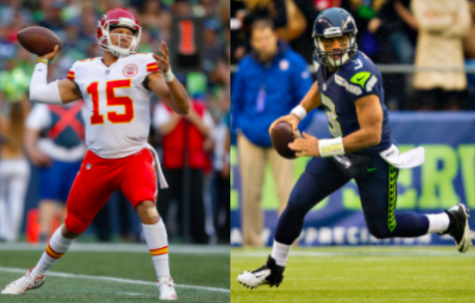 Most Valuable Player:
Kevin's Pick: Russell Wilson – The Seahawks have been rolling and all of that is attributed to the heroics of Wilson. I believe that the narrative for the 2020 season is the fact that Wilson has never received an MVP vote throughout his entire career. This narrative has been shattered by the great play of Seattle despite their historically bad defense. The only reason why this team is doing good, let alone contending for the Super Bowl, is because of the man behind center. Number three. Russell Wilson. MVP.
Daniel's Pick: Patrick Mahomes II – What's new… Mahomes is continuing where he left off. A little over the half-way mark, coming off a Super Bowl win, Mahomes shows no signs of slowing down. In recent weeks, Mahomes has been leading the MVP race, as Wilson has taken a step back due to two poor games.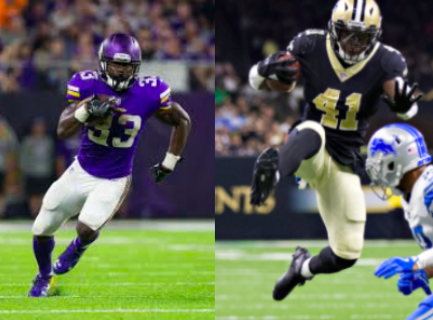 Offensive Player of the Year:
Kevin's Pick: Dalvin Cook – Although there are many other RBs, like Derrick Henry and Alvin Kamara, shaking the game up right now, Cook has been a standout player for the award. Averaging six yards per carry, and a league leading 12 touchdowns among running backs, Cook has put the Vikings on his back and willed them to a mediocre 3-5 record. At this point it's clear. Cook is the only thing that separates a team like the Vikings from the a team like the Bengals
Daniel's Pick: Alvin Kamara – First, someone other than a QB deserves an offensive award if the MVP goes to a signal-caller. Second, Kamara pretty much carried the Saints' offense after Michael Thomas went down and since then, Kamara has had a chance to break the league's single-season record for receptions by a running back.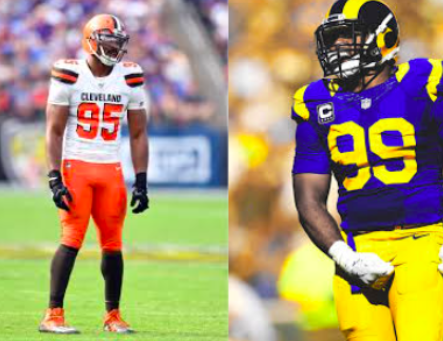 Defensive Player of the Year:
Kevin's Pick: Aaron Donald – The NFL's best interior lineman is on another tear. He's looking to be the third player in NFL history to win his third Defensive Player of the Year. A feat only accomplished by legendary Lawrence Taylor and JJ Watt. Through nine games, Donald has nine sacks, three forced fumbles, and 17 QB hits. As great as these stats are, they don't tell the full truth about Donald's game. When looking at him play, we see Donald getting double and triple teamed very often. This opens the pocket up for other defensive linemen to get to the QB. Donald's great play leads to the stats of the other Rams lineman inflating as well. Donald is the most deserving player for the DPOY award.
Daniel's Pick: Myles Garrett – Garrett was in the mix of this conversation at midseason last year, but then he was suspended for six games. Now he's back and better than ever, and back in the conversation for this pick. Garrett is tied for the league lead in sacks, ranks second in total disruptions, and boasts a mind-boggling seven turnovers caused by QB pressure this season. He's good for a sack per game and a strip-sack just about every other game, making him the most impactful defender on a per-play basis in the entire NFL.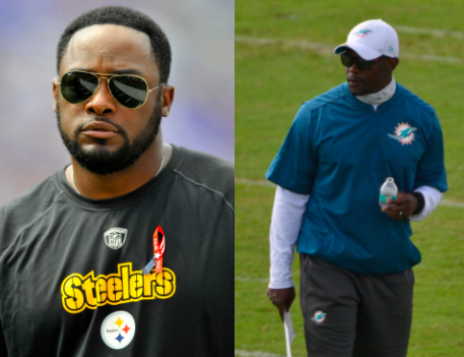 Coach of the Year:
Kevin's Pick: Brian Flores – I think it's safe to say that nobody expected the Dolphins to make it this far. Much of that is credit to Flores figuring out his pieces and moving this franchise in the right direction. The Dolphins seem to have found their guy in Tua Tagovailoa, who is now 3-1 when starting. The Dolphins are 6-4 right now. For what they were expected to accomplish, this season has shattered all expectations. What puts Flores over Tomlin is that we expected the Steelers to be great. They have an incredible defense, and many weapons on offense. A very well rounded team makes the coaches job much easier (not to discredit Coach Tomlin.) Flores was able to produce great results with less, which is what ultimately should put him over Tomlin. 
Daniel's Pick: Michael (Mike) Tomlin – There are some things about the Steelers that are hard to believe. Like it's hard to believe the organization had never started a season at 8-0 before this year. And it's hard to believe Tomlin doesn't get more recognition for never having a losing campaign. And while I contend that winning eight games last year without Big Ben might have been more impressive, what we're seeing right now makes him my Coach of the Year.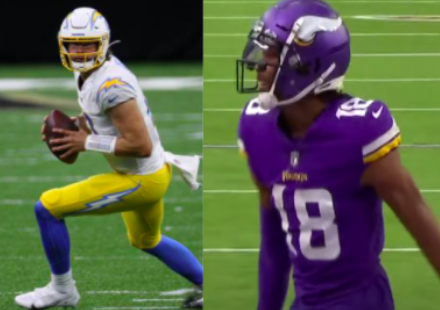 Offensive Rookie of the Year:
Kevin's Pick: Justin Jefferson – With the loss of star WR Stefon Diggs, there were many questions about the Vikings this year. Jefferson is the answer to all WR1 questions. Future HOF CB Richard Sherman says it best, "He's a rookie and he's playing like he's a five, six-year vet. You have to once again tip your hat to the kid." After capping off a championship winning season with LSU, Jefferson took no time to blossom into a top WR in this league. Through ten games he's brought in 45 catches for four touchdowns. He is by far the 2020 OROY. 
Daniel's Pick: Justin Herbert – Herbert isn't just playing well for a rookie — he's been one of the ten best quarterbacks in football since he entered the starting lineup. And even that ranking is conservative, unlike Herbert's beautiful deep passes.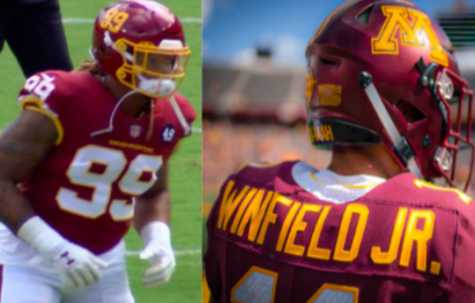 Defensive Rookie of the Year:
Kevin's Pick: Chase Young – The number two pick has proven to be an incredible selection for the Washington Football Team. Young has tallied 3.5 sacks and two forced fumbles, however his main contributions are seen in his ability to throw the QB off his rhythm. He has five TFLs and four QB hits, and is already attracting double and triple teams in his rookie season. He's the most feared rookie on the other side of the ball. Young is this year's DROY. 
Daniel's Pick: Antonie Winfield Jr. – Winfield's instincts and play-making skills have made him a critical component of one of the NFL's best defenses (well, this past Sunday night's effort aside). He started the season by being named the NFL Defensive Rookie of the Month and he'll finish it as the league's best first-year defender.