Winter Break Watchlist
Stay busy over winter break with these binge-worthy shows and movies
While holiday break is flooded with family and holiday traditions, and spring break is defined by warm weather and tropical island vacations, winter break is by comparison rather boring. February is gray and dreary and way too cold to do anything outside, especially with two feet of snow on the ground. Luckily, there are tons of shows and movies, new and old, to keep you occupied while you try to forget about school this coming week. So if you're looking for a series to devour in one sitting, or a movie just to keep you entertained, here are five things to add to your watchlist this winter break: 
The Queen's Gambit
(2020) – Netflix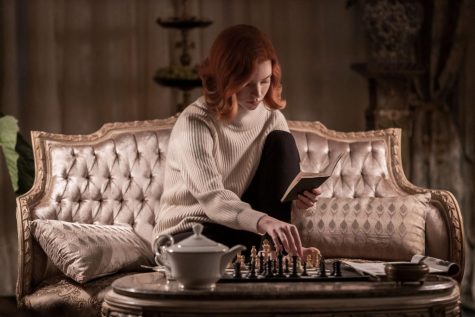 Chess has never been so interesting as it is in The Queen's Gambit. Set in the 1960s, the limited series follows chess prodigy Beth Harmon as she evolves from a nine year old playing against a janitor in an orphanage basement, to one of the highest-ranked players in the world. It also shows Beth's personal struggles with addiction and loss, in addition to her growth as a player and as a person. Beth quickly became one of my all-time favorite characters in any show or movie, and Anya Taylor-Joy is incredible in the role; as is Thomas Brodie Sangster, who plays fellow chess master Benny Watts. The series is up for Best Limited Series at the upcoming Golden Globes, and Taylor-Joy scored a nomination for her performance as Beth, too. I could write pages about the show's brilliant storytelling, visuals, and costumes, as well as Beth's character development and the chessboard on the ceiling. So rarely do I finish a show and think to myself: I would not change a thing about what I just watched. But that's exactly how I felt watching the ending credits of The Queen's Gambit, and with only nine episodes, it's perfect to watch in its entirety over winter break. 
10 Things I Hate About You
(1999) – Disney+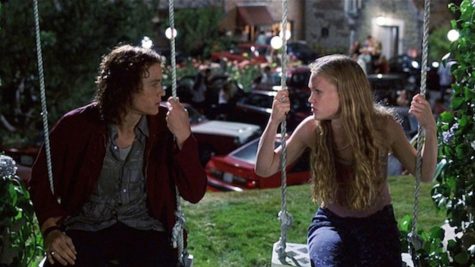 This movie is the epitome of the late-90s teen romcom—back when high schoolers were played by actual teenagers instead of actors in their mid- to late-20s (cough, Riverdale). Cameron James instantly falls for Bianca Stratford on his first day at a new school, but Bianca is not allowed to date unless her tempestuous older sister, Kat, does, too. Cameron enlists troublemaker Patrick Verona to take out Kat, which ends up being a much harder feat than Cameron or Patrick expected. The (appropriately-aged) cast is fantastic, and they truly make the movie great—which is not to say that the plot isn't awesome, because a modern retelling of Shakespeare's The Taming of the Shrew featuring Julia Stiles and Heath Ledger as enemies-to-lovers is a guaranteed win. Plus, Kat is the blueprint for every girl whose likes include "thai food, feminist prose, and angry girl music of the indie rock persuasion," and another one of my all-time favorite characters. 10 Things is definitely worth watching once, twice, or maybe even 10 times over the break; plus it's a great Valentine's Day movie. 
WandaVision
(2021) – Disney+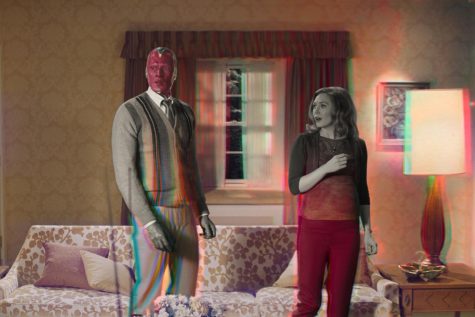 Marvel's new miniseries WandaVision, the first installment in Phase 4 of the MCU, takes place just after Avengers: Endgame (2019). Wanda Maximoff and Vision star in a show about their life together, traveling through decades of television tropes, but the two superheroes realize that their picturesque TV life is far from what it seems. The first few episodes—each filmed to emulate a '50s, '60s, and '70s sitcom—are jarring; there is no mention of the life-changing events that took place in Endgame (or references to any other Marvel movie), leaving viewers confused and dying to piece it all together. WandaVision is completely unlike Marvel's typical productions, and serves as a welcome opportunity to develop the previously unexplored duo that is Wanda and Vision. The show shatters the fourth wall, and Wanda and Vision's technicolor TV life contrasts neatly with the reality of the outside world. However, it's mind-twistingly meta and not for the novice Marvel fan, as it references other movies and characters that are integral to the plot. New episodes are released every Friday, so there is plenty of time to catch up before episode seven comes out on February 19. 
Grand Army
(2020) – Netflix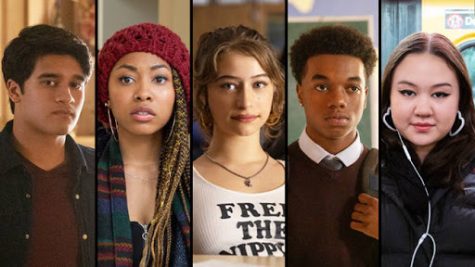 Grand Army explores the lives of five students—Joey, Dominique, Sid, Jayson, and Leila—at Grand Army High School in Brooklyn as they grapple with school, money, family, and life. Grand Army is among the most realistic portrayals of high school I've seen in television; not so much in the plot, but rather in the characters and their struggles, motivations, and flaws. With an array of diverse characters, each with their own narrative, I engaged in their stories and rooted for them to succeed. So often in teen television, characters exist to be either clearly hated or clearly loved, to make the obviously perfect decision or the obviously wrong one, with no gray area in between. In Grand Army, I found things to like and dislike about each person (except for Leila—I only dislike her) and I was never 100 percent in agreement with any one character's motives or methods. It was frustrating, but also the mark of many well-developed, realistic teen characters. Also realistic are characters' encounters with activism and social justice issues, and, overall, there were few dull moments over the show's nine-episode run. Grand Army is best enjoyed in a binge, so watch it over break while you have the time. 
Soul
(2020) – Disney+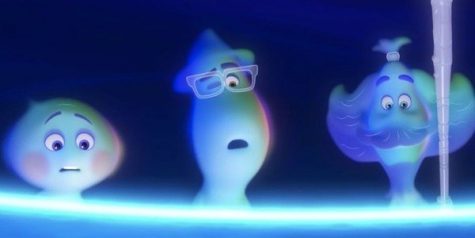 Joe Gardner, voiced by Jamie Foxx, is a schoolteacher and aspiring jazz musician who finally gets the chance to make it big when he scores a gig at a popular jazz club. After a freak accident which leaves him in the oblivion between life and death, he finds himself in "The Great Before," a spiritual land where new souls prepare to enter the world. Joe must decide if he wants to accept his fate or return to his life, sending him on a journey where he contemplates the meaning of life and how to live to the fullest potential. Although it sent me spiraling into several existential crises, Soul is one of Disney-Pixar's best movies to date. It's much deeper than the studio's other animated movies, and it stuck with me afterward. Its philosophical nature is similar to Inside Out, only less stressful (and starring Tina Fey instead of Amy Poehler). Winter break is probably the best time to watch Soul, as this movie will leave you stunned for days pondering the meaning of life, more than you ever thought possible from an animated movie.