STEM League promotes student ingenuity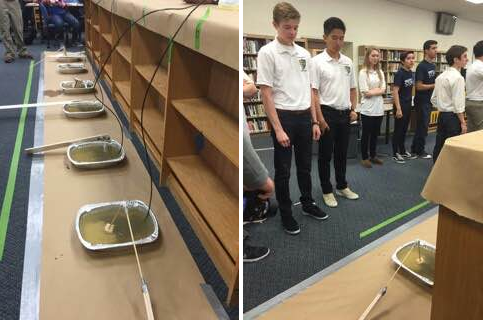 13 minutes. That's all the time that remained for five high school students to build and test their prototype of a water filter. Soon, they would have to present their invention to the judges. This was one of many STEM League competitions in New Jersey.
A newly founded and rapidly growing organization, the STEM League, which stands for science, technology, engineering, and mathematics, is "an enjoyable yet simultaneously competitive team challenge," said sophomore Steve Lee. The league provides students with the opportunity to utilize their knowledge of the sciences and skills in engineering that are taught at school.
Each competition includes quickly brainstorming, writing a lab, building a prototype, and experimenting. Advisor and teachnology teacher Steve Maietta assists his students, offering tips including, "Fail early so you can fail smart."
STEM League promotes a hands-on, interactive educational experience that goes well beyond textbooks and the classroom. Plus, "the lunch that is given [during the competition] is great," Lee said.
The NVOT STEM League had its first competition for this year on November 3 at Northern Valley Regional High School at Demarest.