SAT Rescheduled for April 27
SAT moved due to school shutdown
The in-school administration of the SAT has been rescheduled for Tuesday, April 27, announced the Guidance Department in an email on March 19.
The deadline for students to register for the make-up test date is March 26. Students who registered for the March 24 test will not need to re-register to take it on the make-up date. After the April 27 test, NVOT will not offer another SAT for the rest of the 2021 school year.
The SAT was originally scheduled to occur at NVOT on Wednesday, March 24, but was cancelled as a result of multiple positive COVID cases within the school population. Because the SAT will no longer take place on March 24, there will be a modified E-Day schedule instead of an asynchronous day, said Principal Bruce Sabatini in an email.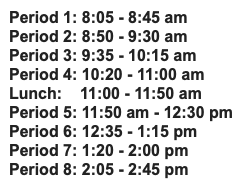 March 23 update: Although March 24 will follow a synchronous E-Day schedule, all English classes will be asynchronous, as "English teachers will be participating in a previously scheduled anti-racism workshop," according to an announcement on PowerSchool Learning. Students should still be aware of asynchronous assignments for their English classes.