Author Sara Shepard spills Pretty Little Liars secrets to NVOT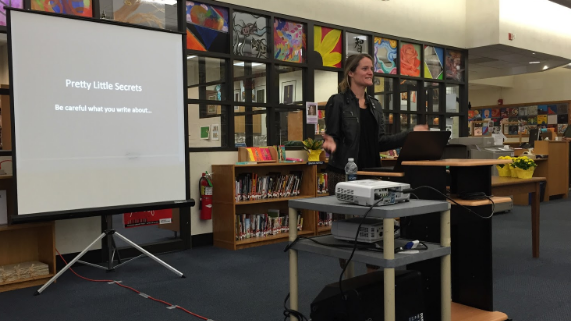 Author Sara Shepard has come a long way since her self-described "angsty childhood journals." She now has a best-selling series, Pretty Little Liars, on the shelves as well as her brand new novel, The Amateurs, which she came in to speak about to NVOT students on October 28. Shepard also gave students writing advice and talked about some of her major life events.
Shepard began to write early in her childhood, keeping her own secrets in journals. that she still looks back on today. In it contained her "imaginary worlds", "bad poetry," and a "secret section," which comprised of family and friend drama. Shepard also kept stories in her journals, but revealed that she always had trouble getting past the first chapter. She "never thought [she] was going to write books."
A turn of events in college really kicked off Shepard's writing career. She entered New York University majoring in biology, despite encouragements from her high school teachers to pursue writing. Shepard soon realized that "[she] didn't like working in a lab", so she switched over to English and eventually landed a job in publishing.
Shepard was still dissatisfied with publishing because "there was not a lot of writing" involved. So, she undertook ghostwriting – meaning she was writing works based off someone else's credited ideas. Through ghostwriting came IT Girl, which was a spin-off of Gossip Girl and what really got Shepard interested in young adult fiction.
She began thinking about writing her own series, and immediately sat down to formulate ideas. Shepard wondered where the story would take place. So, she settled on Pennsylvania, where she lived, but  all she needed was a name – "I decided to call it Rosewood," she said.
Rosewood, PA became home to Shepard's ideas for her main characters – Aria Montgomery, Spencer Hastings, Hanna Marin, and Emily Fields. The story unfolds as the girls uncover the mysteries of an omnipresent stalker known as "A."
Five years after the publication of the series, Shepard's Pretty Little Liars world came to life as an award-winning television drama; she described the feeling as "surreal."
"I had no hand in casting or writing the script," she said. So, when the pilot episode first aired, Shepard admits that she "had different views on what the characters looked like," but that the television writers  "did a good job" nonetheless. The show did stray from the books, but the original ideas always came back. Shepard said, "When I would watch [the show], I would get really excited when they used something from the books."
Shepard completed the last Pretty Little Liars book in December of 2014, and since then she has been working on a new detective fiction novel titled The Amateurs, which was released a few days prior to her visit. The new novel is about four high school students who "take matters into their own hands" and reopen a cold case. "It's not a spin-off of Pretty Little Liars," she pointed out. However, she still stuck with the mystery genre. "It's something I've always enjoyed," she said. "It's like the pieces of a puzzle."