Annual Jazz Cafe Goes Virtual
The NVOT Tri-M Music Honors Society raises money over Zoom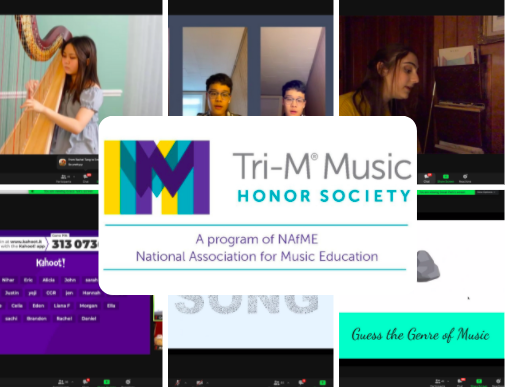 The Tri-M Music Honors Society gathered over Zoom on Friday, April 23 to collect donations for the American Cancer Society. The event included several different interactive games and jazz band performances throughout the two hours. For the first time ever, students also included interactive events–including a Kahoot game, "Guess the Instrument," and "Guess that Song"–to keep the audience entertained and engaged in the event.
Although past Tri-M Music fundraisers were held in-person in the North Cafeteria, the music department was still able to show off their performances in a series of pre-recorded videos of themselves singing and playing their instruments. Music teacher Jonathan Meszaros explained that the in-person performances allowed students to arrange and rehearse together; but, the virtual event did not stop students from collaboration.
Junior Alexa Farah said that even though they could not perform together in person, "Many students used the technology to their advantage, editing video recordings together, and playing multiple parts of songs to create digital performance videos."
Sophomore Seho Lee chose the creative route. "I personally wanted to be creative," Lee said,  "I realized doing this event virtually was a great opportunity for me to push my creativity as I could essentially be a one-man band with a video performance." 
According to Meszaros, the future of the cafe looks promising. He stated that his hope is that the Tri-M Honors society "Will be able to hold future Jazz Cafes in person again, including all of the previous aspects." But, Mezaros stated that "[they] will have to see what the circumstances are next March and make a determination then." 
For those who were not able to attend the event, however, there is still time to donate to the American Cancer Society.