Assistant principal Richard Orso: "I wanted to be someone that students recognized when I walked down the hall."
Orso says farewell as he retires from NVOT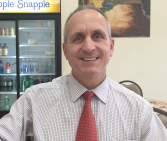 From Wall Street to physical education teacher to administrator, assistant principal Richard Orso's professional career has been a winding road. Soon, this road will take another turn as Orso plans his retirement.
Regardless of where this path took him, Orso wanted students to know "that I was fair, that students could always have trust that I have integrity with them, and that I was fun since I have a sense of humor about things."
Orso strived to develop a face-to-face relationship with individuals of the student body. He said, "I wanted to be someone that students recognized when I walked down the hall. I didn't want to be stuck behind a door all day in an office."
In that very office, Orso developed many relationships with staff members, most particularly with another administrator, assistant principal Javier Rabelo.
Orso mentioned that Rabelo "has been like a brother to me" and that "[he] has been fortunate to work with [Rabelo]." In addition, Orso added, "[Rabelo] has been a great colleague to have, someone to learn from and also someone that I can count on to help me out with situations, to give me advice, guidance, and direction."
Rabelo mentioned his relationship with Orso and said that "part of being an administrator is that we rely on each other, and there's a codependency with him that I'm going to miss. What I'm going to miss most about him is his caring demeanor."
From Orso's early childhood, his parents raised him to grow up with this caring attitude. Being one of nine siblings and "growing up in a time where you could find 30 to 40 kids playing on the street," he learned the importance of forming relationships by getting to know people personally.
Orso mentioned that he is a lifelong learner and that when he meets with students, "my main goal is to hopefully learn something about them, so I can understand them better and appreciate them more."
However, Orso's love of education extends beyond the students here. He wants to continue to work with aspiring learners in his retirement, mentioning how he wants to coach youth baseball and possibly be an administrator professor. Orso stated, "I think I would help students learn better practical life experiences to be like an administrator."
Furthermore, Orso plans to go back to his first line of work in finance. He is booked to head down to Tennessee to take a three-day refresher course to be able to "use [his] finance degree to help people, families, local churches, and local communities to …budget their money with their mortgages and to hold courses for them."
He will also continue his passion for writing, which is something he has enjoyed doing over the years. Orso has filled journals and has written three books. They are incomplete for now, but he hopes to get published in the future.
But most of all, Orso said, "I want to spend more time with my family and to do some more traveling with them and also have the opportunity to have more impact on their lives." He wants to spend more time with his three children and his wife at home, whether he becomes a writer, college professor, finance student, or youth baseball coach.
"I'm going to retire right now, but I'm also going to control how I work with my kids and how I work with my future jobs so I can enjoy them," Orso said.
According to Rabelo, "He's very social in nature and we are going to miss that in the office."