DECA competes at regionals at Ramapo College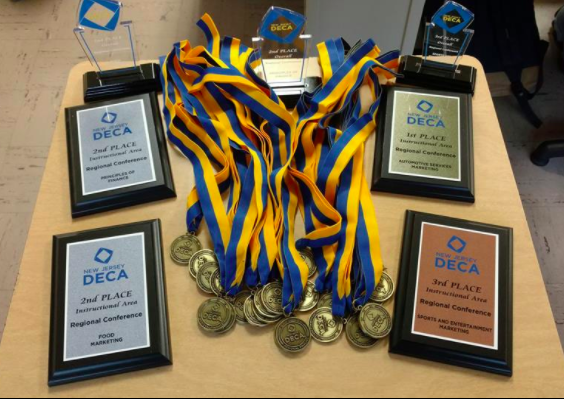 Clad in formal business attire – tie, shirt, and jacket – DECA (Distributive Education Clubs of America) participants took a trip to the annual regionals competition at Ramapo College. Many schools in Bergen County met up at the college, where students chose a marketing-related event area in which they wanted to compete on Monday, January 9th.
Some topics students took on included apparel and accessories, sports marketing, restaurant management, and more. After choosing an area of concentration or event, participants were given two role-plays, or case studies, which are scenarios where one practices speaking skills between company and customer. With these role-plays, students are given 10 minutes to plan, "how to address the issue in that case study, and after planning their presentations, they sit with a judge face-to-face, who evaluates their plan for each case study," according to Mr. Antonio Marino, club advisor.
As DECA is an international marketing association, the competition was judged using their own rubric. Students were evaluated on five to six points of criteria. Some categories on the rubric assess how students organize their presentations, how they communicate, and the overall impression left on the judges. Students also took comprehensive tests relating to their topic about one month ago which, along with Monday's regionals, determine who gets to move on to state competitions.
After her return from Ramapo College, junior Vivian Lee explained that she was able to take a great deal from the trip. She said, "In order to be successful in the competition, I had to be creative, relaxed, and open-minded. Then, I would improvise."
Just as Marino had hoped, Lee seemed to have benefitted from the trip not only as a marketing student, but also in the real world. Marino explained that students were able to obtain many skills they can use in the real world from "how you dress for business meetings and how you communicate, to little gestures, such as shaking someone's hands, making eye contact, introducing yourself, and thanking people for their time." Marino added that these are little things that aren't necessarily taught in school, but are "crucial to know if they [students] really want to go into the business field."
"This year's turnout was amazing," said senior and returning club member Kiana Gomez. "The more participants OT has, the more likely we are to have someone advance to the state competition or maybe even nationals." Students will receive the results of the competition in the coming month, and those who performed well in both the test portion and the role-play portion of the competition will move on to state sectionals in Atlantic City.