NVOT reacts to the Patriots' comeback Super Bowl win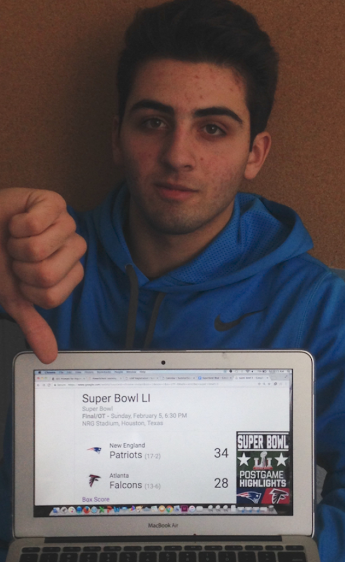 Being called one of the best comebacks of all time in Super Bowl history last Sunday, Super Bowl LI impacted students in a big way this school week.
        Down 25 points, the New England Patriots scored 31 unanswered points to beat the Atlanta Falcons in the first ever Super Bowl overtime. "Amazing catches from Julian Edelman and Julio Jones combined with Tom Brady leading the charge made Superbowl LI one of the best games ever played," said sophomore Rebecca Clyde.
        Many students are Giants or Jets fans, both of whom are rivals to the Super Bowl champs. "The popular saying that's currently trending is, 'why do good things happen to bad people,'" said senior Rich Guerriero, a Giants fan, as he mentioned the incident when Tom Brady and the Patriots' "Deflategate" scandal from the AFC championship game in 2015.
        "Many people like me are in a bad mood since we all hate the Patriots," said senior Joe Antine. "To be honest, I wish we could have had a delayed opening."