NVOT Soccer Sweeps Leagues
Boys and girls soccer teams both bring home 2021 league titles
For the first time in school history, both the boys and girls varsity soccer teams have won their respective league championships in the same year. 
The boys clinched the league title after a close 1-0 victory over Bergenfield yesterday afternoon. Captain Max Caunedo scored the lone goal in the first half, and the team held on to keep its first shutout of the year. 
Goalkeeper Evan Chrenko made six saves to contribute to the shutout. "It feels great to finally keep a shutout. We've been solid defensively but haven't had a clean sheet to show for it," he said. "It feels good to win our league in back-to-back years, but we have our work cut out for us in the state tournament too."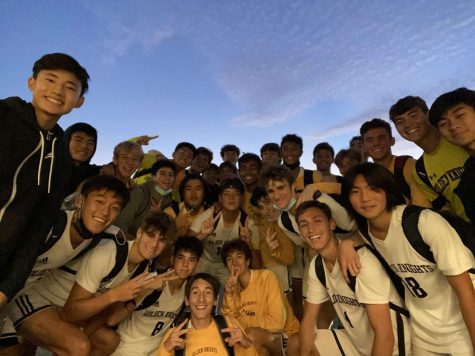 After a rough start to the season with a 2-4 record, the team managed to turn it around; they won their next four consecutive games, and currently hold a 7-1-1 record in the league. "After a slow start, I'm really proud of how we've all brought it together to win the league," Caunedo said. By clinching the league title this year, the boys team claims back-to-back league championships for the first time since 1972.
The girls team won their league title over Bergenfield at home under the lights with a decisive 4-1 victory, securing a 7-0-3 final league record. Starting off strong, junior Natalie Carril found the back of the net twice within the first ten minutes. Senior Brooke Farrington and junior Jessica Jung also contributed with a goal each in the first half, allowing the girls to go up 4-0 by halftime.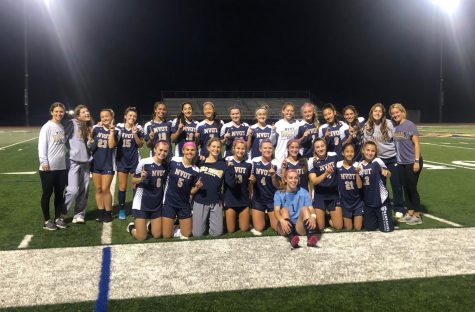 Goalkeeper Mackenzie Ward managed to hold down the fort with eight saves, solidifying their win. "As the keeper I feel a lot of pressure to make sure I perform for my team, but having that motivation to show up each day and perform for the girls who have been working towards this for four years allows me to show up each and every game," said Ward. 
Captain Emily Clune said that the entire team contributed to making the title win possible: "We worked harder than any other team to achieve our goal. Each and every person played a major role in accomplishing [our] goal to win leagues." 
With zero losses in the league, the girls remain the only team in the Big North National Division to finish their league games undefeated, allowing them to secure the divisional title for the first time in five years. 
Upon entering their postseasons, the boys team posts an 8-5-1 total record and will enter the state tournament ranked 11th. The girls team holds a 8-4-4 total record, and will enter the state tournament as the 4th seed.