Girls Cross Country Brings Home Bergen County Championship
The Golden Knights collect hardware–clinching the first county title in 19 years
The girls cross country team raced at Darlington on Saturday, October 23, and for the first time since 2002, brought home a Bergen County Championship title. But unlike past years, they did so with a clean sweep. 
The Golden Knights broke the school Darlington record, set in 2015, by a definitive eight seconds, with a team average time of 19:54.6. Senior Cara Hliboki, juniors Kristen Johnson and Kate Meeks, and freshman Sophia Katechis all placed in the top 10 in the race.
Hliboki said, "At the beginning of the season, we knew we had the potential to be a great team, but now we're seeing it in action, and I think it is a product of how hard we consistently work." 
It was a true team effort on Saturday as the girls beat the second place team by a decisive 42 points, and every varsity runner set a personal record. This collective performance allowed the girls to claim the eighth County Group Championship in NVOT school history. Senior Alicia Acosta praised the team's collective desire: "Everyone, even those not running, had a fire in them and it was all falling into place, all the workouts, drills, speeches. All the girls that were on the line that day hit a new PR. They all held their part up individually."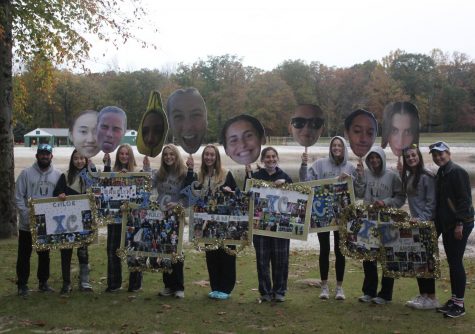 To add to the victorious day, the team celebrated their senior day, honoring seniors Hliboki, Acosta, Chloe Cho, Breelyn McNamara, Holly Latz, Samantha Kosmark, Jessica Silverman, and Angie Salerno.
From this point on, each runner must qualify individually for every meet they will compete in. Hliboki added, "While we are now enjoying our title, we are also looking forward to what the rest of the season holds for us." As the final month of the season approaches, the runners now look forward to their final meets, including the State Sectional Race, State Group Championship, and State Meet of Champions.