A 4-2-itous Season
JV Boys Soccer finishes their 2021 season as undefeated County Champions
The boys JV soccer team closed out their 2021 season on Wednesday, November 3 by bringing home the Junior Varsity Bergen County Championship, and doing so with a perfect, undefeated record. 
Similar to all of their other games, in which they held teams to no more than two goals in a given matchup, the Golden Knights easily defeated the Ramapo Raiders in the championship with a 4-2 win at home under the lights. 
According to captain Eddie Sullivan, the efforts to achieve this undefeated season started back in August when the boys began their preseason. "I think the main contributing factor to our win was our conditioning. It started in August and continued on throughout [the season]. We ran all around other teams and they just couldn't keep up." 
But, more than just conditioning and scoring goals, it was the team's camaraderie that seemed to be the key element to the boy's success: 'We love to crack jokes all the time…and we are always hanging out with each other. That's just the type of bond we have," said goalkeeper Michael Greenberg.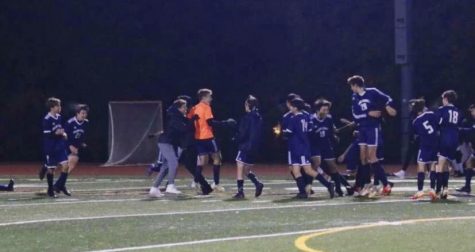 But while the boys love to spend time with one another off the field, they know how to kick it into gear once the whistle sounds for game time. "When we're on the field, it's a completely different story." Greenberg noted. "We had the mindset throughout the season that we were the best in the county, and we wanted to prove that to everybody."
The team's 13-0 season record proved that they were in fact the best in the county, and their victory in the County Championship solidified their great season.
The boys now look forward to next year, where they anticipate moving up in the program to the varsity squad. With 18 graduating seniors, many will be afforded opportunities at the highest high school level.