The Lance's Hot Takes 2.5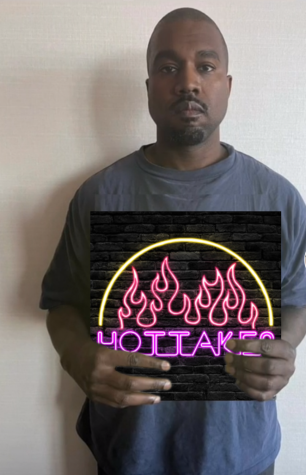 What's up OT? Livi and Gianna here—with special guest Amanda!
We know you missed us. We are back with a special edition: KANYE.
SOMEONE TAKE AWAY KANYE'S PHONE! NOW!
We don't know what exactly the root of this rampage is. Are his actions publicity for Donda? Is he trying to build momentum for his stupid documentary? Is he trying to win Kim back? If that's the case, take it from us Ye, this is not the correct approach.
Whatever it may be, Kanye has unleashed complete chaos.
Here's the rundown.
The First Stages Of Rebellion
Larry Hoover Concert: During the Larry Hoover benefit concert in December, which was live streamed worldwide, Kanye sang his classic song "Runaway" and he proclaimed to the crowd of 70,000 people, "I need you to run right back to me…more specifically, Kimberly." This was right as their divorce was being made official, so needless to say it had us shocked. 
Chicago Birthday Drama: Stormi Webster and Kim's youngest daughter, Chicago, had a joint party in January to celebrate their fourth birthdays. Kanye was not invited, OOP. In typical Kanye fashion, he accused Kim of kidnapping Chicago by not telling him the location of the party. Way to ruin the special day, Kanye.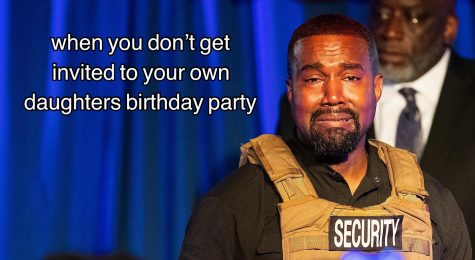 The Billie Eilish Incident
On February 5 Billie EIlish momentarily paused her concert to help a fan who endured an asthma attack. While ensuring the safety of said fan, Billie was recorded saying, "I wait for people to be okay until I keep going." This video went viral as people assumed her comment was in reference to Scott's Astroworld concert that took the lives of ten people.
This supposed shade infuriated Kanye. Why? We have absolutely no idea, but Kanye took to Instagram to call out Billie, urging her to apologize to Scott and the families of the Astroworld victims.
This is not the first time that Kanye has targeted the fame of a young woman in the industry.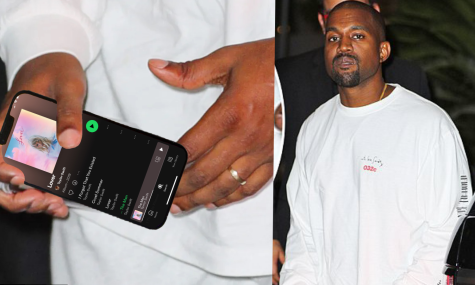 Don't you remember when Kanye's infamous stage crash? When Kanye strutted onto the stage at the 2009 VMAs while Taylor Swift was accepting the Best Female Video award, he rudely took the microphone and her spotlight.
Ye and Billie are both headlining this year's Coachella music festival, but Ye stated he needs an apology from Billie before he brings Scott as a special guest. 
This behavior is equivalent to that of a sixth grade boy with both anger and impulse issues. We are mad that Kanye does not see the error in his ways, but mostly, we are disappointed that Coachella is allowing him to cause such controversy with the other artists in their lineup. 
Skete vs. Ye 
Look at Kanye starting "All of the Fights" (get it, cause his song…)
Blinded by jealousy and his ugly sunglasses, Kanye concluded that the way to Kim's heart is through publicly shaming her boyfriend, Pete Davidson, who Kanye only refers to as "SKETE." SKETE does not have an Instagram account, so he is defenseless as Kanye floods our feeds with posts that are working to resurface past controversies surrounding SKETE. These attacks consist of bringing up SKETE's failed engagement to pop princess, Ariana Grande, and a tattoo of Hillary Clinton that he has since had removed. 
______________
LIVI: He's reached his limit on talking. 
When you can't respect the man, it's hard to respect the music. Especially when 80 percent of the so-called masterpieces are horrible. BURN. Kanye's immature stature paired with a track record of being impossible to work with will only lead to his demise. His list of conflicts is longer than a kindergartener's Christmas list, and it is only getting longer.
But, for real, get this man a publicist. Or a nanny (since he is literally a child)
______________
People are referring to this one-sided battle as a "civil war" due to a viral photo picturing the two men photoshopped into the movie poster of Marvel's Captain America: Civil War. Rather than displaying Team Iron Man vs. Team Captain America, it's now Team Kanye vs. Team SKETE. I don't know about you, but we're Team Pete all the way.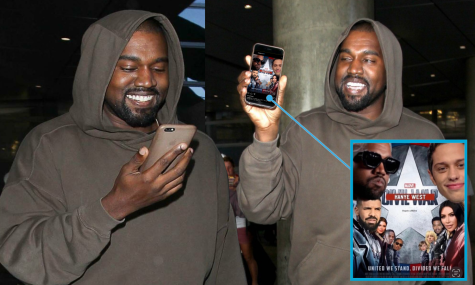 The only good thing that came from this incident was Michael Che's response to it. On Instagram, Che offered his support to Kanye. His alliance would require compensation of triple his salary (which he clarified would be no more than $90,000), full medical, full dental, four weeks vacation, and a corner office.
Team Kanye or Team Pete?
Sorry, there was an error loading this poll.
And how did Kid Cudi get brought into this?
On Saturday night, Kanye took to instagram to announce his disappointment with long-time friend Kid Cudi. He made it clear that he has cut off Cudi due to his friendship with Pete Davidson. He also stated that Cudi would not be featured on Donda 2. 
Cudi seems unphased. Maybe because he doesn't see Kanye as someone who plays a major role in his personal success.
Cudi snapped back by commenting, "Too bad I don't wanna be on ur album u ****in dinosaur hahaha everyone knows i've been the best thing about ur album since i met u."
______________
AMANDA: The lyrics to "I Love Kanye" hit different nowadays:
"I miss the old Kanye, straight from the 'Go Kanye
Chop up the soul Kanye, set on his goals Kanye
I hate the new Kanye, the bad mood Kanye
The always rude Kanye, spaz in the news Kanye"
More than anything, Make Kanye 2006 Again.
______________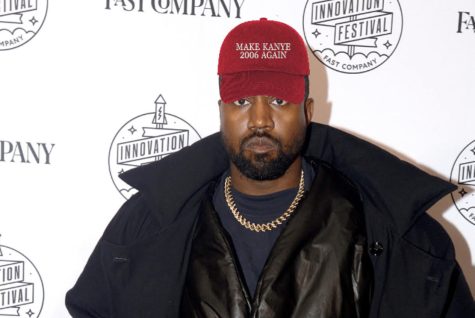 Kimye
Kanye, leave our girl alone. Let us remind you, you are not the knight in shining armor. Rather, you are equivalent to a nasty cold that has overstayed its welcome. And to clarify, no one likes those.
______________
AMANDA: Kanye keeps pleading to reconnect his family while he's out here "dating" a Walmart version of Kim and blasting her all over social media. This absurd behavior is only making the situation worse. Just because you are a celebrity doesn't mean everything needs to be displayed online for everyone to get involved. Enough with these attention seeking antics to promote your new album that no one will listen to anyways. Keep your private life PRIVATE!
______________
Why is Kanye trying to revive something that is already done and dead? While Kim was the one who filed for separation, she was not the one who ruined the marriage. A prime example of being a horrible husband (and person): Publicly exposing your wife for considering an abortion while pregnant with your first child. Oh, but there's more! Kanye admitted to adultery in his song Hurricane ("Here I go actin' too rich / Here I go with a new chick / And I know what the truth is / Still playin' after two kids"), tweeted that he wanted to divorce Kim after she met up with Meek Mill to talk about prison reform, and called Kim's mother "Kris Jong-Un."
Anyways, lashing out at his ex-wife this way for simply moving on is so not cool. Especially when you have been publicly seeing other women. 
LIVI: *sniff sniff* I'm smelling a double standard.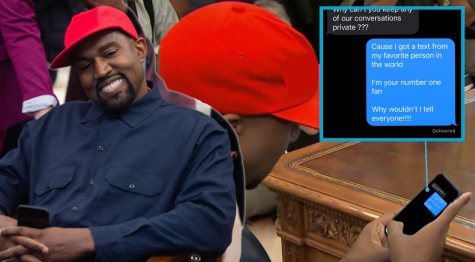 Valentine's Day Nightmare
On February 13, Kim and Pete celebrated Valentine's day early in NYC after Pete finally referred to her as his girlfriend in an interview. However this cute couple moment was short lived.
Kanye posted a photo of the couple proclaiming his love for his ex-wife once again. He claims that he and Kim have no beef, saying "we'll be back together." In this post, he instructed fans to "SCREAM AT THE LOOSER AT THE TOP OF YOUR LUNGS AND SAY KIMYE FOREVER" if they see Pete in the streets. C'mon, Kanye, get a grip… you couldn't even spell loser right.
GIANNA: As a Pete stan myself, this hurts my heart. Kanye has no right.
Also, (big shocker) Kanye has supposedly split from his new girl, Julia Fox. The two were a great match, as it was hard to tell which one was nuttier than the other, and both are creative geniuses. We could totally see them working things out in another life, but it has been made very clear that nothing stands in the way of Kanye reuniting his family.
It seems that Fox will have no problem moving on as she was also Josh Safdie's muse in "unka jams." That's Uncut Gems, for those who don't understand vocal fry.
Kanye, with an all-black pickup truck and flowers, is saying his "VISION IS KRYSTAL KLEAR." The only thing being made "KRYSTAL KLEAR" is that you are insane.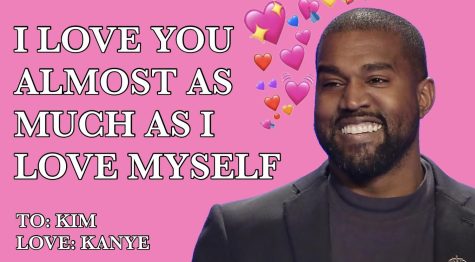 Is He Done Now?
Kanye has issued an apology?!
February 15, 2022 will go down in history as the day Kanye put his pride aside. Kanye acknowledged (some of) his wrongdoings in the caption of an Instagram post. This post is unlike ones we've seen from him in recent days, as the caption is written in lowercase letters. 
"
I've learned that using all caps makes people feel like I'm screaming at them. I'm working on my communication."
— Ye West, in the caption of an Instagram post
This post seems too good to be true. And it probably is. We believe that there is a (much needed) damage-control team working behind the scenes, with Kanye probably sedated. But, "I guess we'll never know." 
Anyway, that's all we have for you today. But don't get too upset, this isn't the last you'll be hearing from us.
XOXO, your public relations editors (and Amanda!)
Is Kanye overrated?
Sorry, there was an error loading this poll.