The Lance's Hot Takes 5
New celebrity drama opinions from new people
Hey guys, welcome back to everyone's favorite part of The Lance: Hot Takes. We're here to keep you updated on celebrity gossip and the never-ending drama in the world. But, it's not the same people you are used to hearing from (or disagreeing with). Our beloved Livi and Gianna have moved on to bigger and better things (college…), so we decided to take over the show. Welcome to the new and improved Hot Takes starring us, Liv and Charlotte. We could not be more excited to share opinions that no one asked for <3
Hollywood men and their excessive cheating:
This fall kicked off with two especially juicy cheating scandals coming from Adam Levine, love song genius, and Ned Fulmer, the "wife guy" of the Try Guys. So let's get into it. 
In September, Instagram model Sumner Stroph posted a TikTok claiming to have had a year-long affair with the Maroon 5 lead singer. She included screenshots with raunchy messages from Adam that are nowhere near as charming as his lyrics in "She Will Be Loved" and gave us the ick for him. To top it all off, he asked Sumner if he could name his pregnant wife's child after her.
Jaw drop. 
Everything about that is weird. Was he just forever going to talk to his child while thinking of the girl he had an affair with? Awkward. He has admitted to inappropriate behavior but denies the affair allegations. While he may not have technically had an affair, it's still classified as cheating to us. Adam's wife, Behati Prinsloo, is reported "very upset", and so are we. How can we ever listen to "Stereo Hearts" again knowing it's all a lie?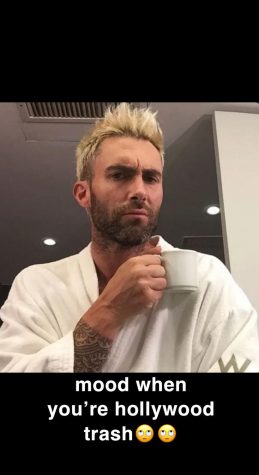 Next up on our disgraced list of cheating husbands: internet star Ned Fulmer. Ned is one of four Try Guys, a group of four men who have been uploading funny videos 'trying' different things together since 2014. Fulmer's affair was revealed as one Reddit user uploaded videos of Fulmer and Alex Herring (associate producer of a Try Guys spinoff show) kissing in PUBLIC at a club. Talk about musty. Ned must've known he couldn't keep this a secret, especially considering he and Alex have literally filmed videos together on the Try Guy channel. I mean seriously, how dumb can he be?
Ned, who was known for constantly gushing about his wife, Ariel, tweeted an apology and admitted to a "consensual workplace affair". He was still fired from the Try Guys channel. ​​LOL, deserving. Fellow Try Guys, Keith Habersberger, Zach Kornfeld, and Eugene Lee, uploaded a video explaining their disappointment in Ned. Eugene really embodied the term "if looks could kill" throughout the video–we felt as if we were the ones having the affair. We would give up our spot on The Lance to be humbling him with Eugene. 
Taylor Swift's world domination:
As we all know, Taylor Swift released her album Midnights on October 21, 2022. Even if you aren't super fans like us, you have to admit that the anticipation and release of this album sent shock waves through pop culture. If Taylor keeps dropping seven additional songs to all her albums at 3 a.m., she'll be sure to keep fans on their toes. With this being her tenth studio album, it is officially time to announce Taylor Swift's world domination.
Our queen has already shattered three records: most streamed album on Spotify in 24 hours, most day-one streams of an album on Spotify, and most streamed act on Spotify in 24 hours. And, obviously, Spotify is the superior streaming service (bye, Apple Music users), so this speaks for itself. 
However, the actual album got some mixed reviews. Some people thought it didn't live up to the hype, while others think she's reinvented pop music. Personally, we love the album and it is quite literally the only thing we've been listening to for the past week. Our top three songs are 'You're on Your Own, Kid', 'Maroon', and 'Would've, Could've, Should've'. Politely, go listen <3
She also has finally announced her tour: The Eras Tour! This is her first tour after five years, four albums, and two album re-releases. The demand for her tickets is through the roof and we won't be surprised if she completely sells out. I mean, we love Taylor as much as the next girl, but we're not going to lie, the fights over her tickets are going to be something else. Don't worry about us though, we got that 'Bad Blood.' 
If you're not already in Ticketmaster's presale, good luck Swifties. Taylor Swift is the music industry, but you know that 'All Too Well.'
Jesse Rutherford and Billie Eilish:
Two of our favorite singers have come together to make one of this year's most questionable couples. Jesse Rutherford, lead singer of The Neighborhood, Jesse Rutherford, and pop-icon Billie Eilish are the new couple, confirmed with a couple's Halloween costume (obviously) and PDA. 
The two have been getting some heat over the 11-year age gap they share since he's 31 and she's 20. So, they decided to be a baby and an old man for Halloween…fitting. This age gap definitely worries us as we've all seen the horrors of our favorite young singers and tragic older men— someone cue Taylor Swift and John Mayer! Maybe this new couple isn't our favorite simply because we haven't gotten over the fact that Jesse and fashion influencer Devon Carlson ever broke up. Seriously, though, is love even real??? 
They were recently seen cozying up to each other at a Paramore concert. Gross. First of all, Billie's brother Finneas was inches away from them (gag). Second of all, the least we are expecting out of this couple is new good music. We really are rooting for you, but 'Happier Than Ever' and 'Baby Came Home 2 / Valentines'" are higher on our most-streamed songs list than our expectations for this couple are.
Joshua Bassett/Sabrina Carpenter/Olivia Rodrigo: Love Triangle
This drama feels sooo January 2021. But, guess what, these young singers love to keep us updated with fresh drama. But is it really fresh? As we all know, on January 8, 2021, Olivia Rodrigo released her smash-hit song 'Driver's License' which was presumably about her rumored ex-boyfriend and co-star in High School Musical: The Musical: The Series, Joshua Bassett. She later released her album Sour and the Joshua drama seemed to follow her through all her lyrics: "Well, good for you, I guess you moved on really easily / You found a new girl and it only took a couple weeks." The juicy backstory made the album that much better and left Joshua on his deathbed with Rodrigo's rising fame. 
But, who was the "blonde girl" that Olivia kept singing about? None other than the lovely Sabrina Carpenter (FYI: this is a no-Sabrina slander zone). Joshua and Sabrina had been reportedly dating very soon after Olivia and Joshua split, thus, Olivia (and all of us) had a depressed girl winter. 
Sabrina has done some clapping back to Olivia's endless heartbreak songs, which had us hooked at the time. Emphasis on the 'at the time'. In January 2021, she released the song 'Skin' with these very possessive lyrics (ladies let's not fight, girl power unite): "You can try / To get under my, under my, under my skin / While he's on mine." The song itself was simply a 5/10, but the drama it added was a 10/10.
Flashforward to early October, Joshua desperately grasped to the year-old drama and posted a TikTok with a filter saying, "First letter is the love of my life" before clicking the screen and getting an O. O for Olivia! It's like he's still obsessed. But, he's not the only one. Sabrina released a song on her recent album called 'because i liked a boy' and in the song she sings, "When everything went down we'd already broken up / Please tell me who I am, guess I don't have a choice." I almost feel bad for them all. Oh wait, I take that back. During her recent concert, she freestyled the end of her song 'Nonsense', singing, "I've got a great personality but no —- / This song is not about Joshua Bassett." Joshua, Sabrina, and Olivia, please just move on, we don't care about your love triangle anymore. 
So, those are all the opinions we've got to give today. But, there's no need to fret. There's a big year of Hot Takes ahead!
XOXO,
Liv and Charlotte