Hot Takes: Met Gala 2023
Hey guys, welcome back to everyone's favorite part of The Lance: Hot Takes. This year's Met Gala was on May 1, and celebrated the opening of the Costume Institute exhibition "Karl Lagerfeld: A Line of Beauty." Designers and celebrities came together on fashion's biggest night to pay homage to Lagerfeld's legacy, so it's only right we give our hottest takes. 
Unexpected Favorites
 Anne Hathaway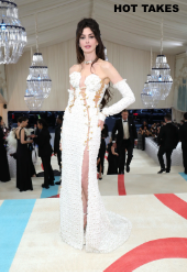 Following her five-year hiatus from attending the Met Gala, Anne Hathaway returned and shocked us all. The actress wore a white tweed—one of Lagerfeld's most used fabrics—Versace gown with cutouts along her torso extending down her leg. Her homage to Lagerfeld through her dress' fabric is enough to make a grown man cry…or in this case two teenage girls. Hathaway accessorized with matching tweed gloves and a Bulgari diamond choker. While she is the new face of Versace, we were not expecting her to go this hard. This look single-handedly brought back our Princess Diaries obsession. 
Anok Yai​​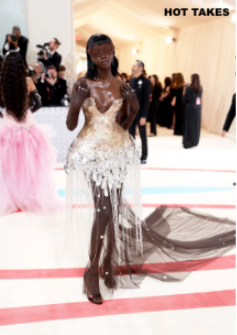 Anok Yai, a South-Sudanese American model, stunned on the not-so-red carpet at this year's gala. She wore a Prabal Gurung metallic mini dress that gave off angelic jellyfish vibes. She paired the mini dress with a Piers Atkinson embellished mask, honoring Chanel and Lagerfeld's iconic quilted pattern. We're ashamed to say we unfortunately didn't know who Yai was before we saw her in this absolutely glowing look from head-to-toe. Now, we're proud to say she's someone we'll never forget. 
Bad Bunny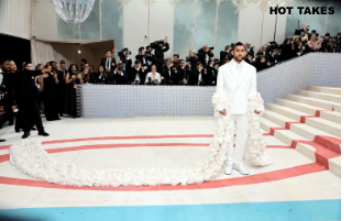 Bad Bunny strutted into the met gala in an amazing custom Jacquemus ensemble. It was giving President Snow in the best way possible. The flower train was very Chanel and very cool. This was quite unexpected after his flop last year in his funky burberry boilersuit. Not a typo. Boilersuit. Anyway, maybe his new romance with Kendall Jenner has pushed him to up his fashion game. Either way we give this look a 10/10. 
Disappointments
Lizzo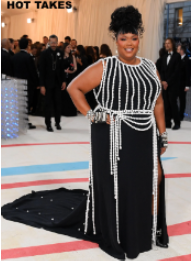 Lizzo, our girl. Our hot takes section has always been a loving space for you, we literally crop ourselves into pictures with you. Which is why we say this with great pain: we hated your outfit. It was honestly horrible. Who did this to you? They put you in a cage of pearls over a boring black dress. Even the hair department did you dirty in this sad Audrey Hepburn inspired bun. This look was as painful to look at as it was for us to miss your world tour. 
Ashley Graham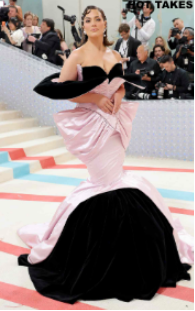 Sine she's one of the most famous models today, we expected something great from Ashley Graham. We know she is capable, as she proved in her Prabal Gurung gown for the 2018 'Heavenly Bodies' Met Gala. This year however, was a disappointment. It was definitely interesting and something to look at, but something about it didn't work for us. Maybe it was the awkward cones coming from her hips. Actually, it definitely was. 
Kim Kardashian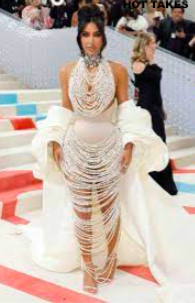 To no surprise, we have to talk about Kim Kardashian's look this year, even though it was a bit of a let down. Don't get us wrong, we didn't hate it, I mean this Schiaparelli ensemble made out of about 50,000 pearls is definitely cool. However, Kim lost us in the different shades of beige. Or white? We still don't really know. As a Met Gala veteran, we wanted to be dazzled by Kim's look, instead we were dissatisfied. 
Outfits We Disagree On
Suki Waterhouse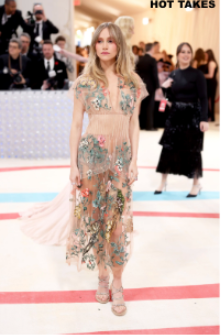 Liv: While I am one of Suki Waterhouse's biggest fans, this outfit did not do it for me. I absolutely love Waterhouse in Daisy Jones & The Six, and I'm not sure there is someone who supports her and Robert Pattinson's relationship more than me, but who allowed her to wear these rip-off shoes? It's giving grandmother at a bridal shower in the worst way possible. Her sheer silk tulle dress comes from Lagerfeld's spring 2019 Fendi collection, which would be his final. It's very touching that she decided to go with one of his final looks, but this just didn't do it for me. Maybe if she hadn't worn shoes that look like they are straight off the Zara final sale rack this look would've been better, but it honestly was a flop.
Charlotte: Ironically, I don't know much about Suki Waterhouse, but I loved this look. The sheer dress was honestly beautiful with its pastel flowers. Suki was perfect for this dress, with her hair complementing it perfectly and her stunning eyeshadow. This Met Gala was definitely a sea of black and white, so this look was the perfect subtle pop of color. Yea, the shoes were just alright, but subtle enough to overlook and focus on the dress. 
Kendall Jenner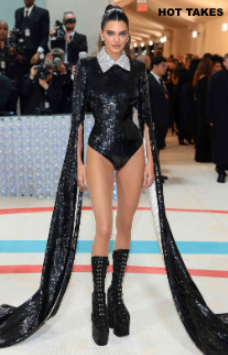 Liv: Kendall Jenner absolutely killed this look, once again proving that she is the best-dressed Kardashian-Jenner sister. She opted for a Marc Jacobs look for the night, consisting of a sequined black bodysuit, extra long arm sleeves forming a split cape behind her, platform boots, and, well, little else. Jenner was definitely business on top and party on the bottom with literally no pants on, but somehow this look was everything. It paid homage to Lagerfeld's signature black and white color combo and high collars, while also interpreting Lagerfeld's 90s swimwear designs in a way that was different from anything Jenner has done at the Met Gala before. If anyone could pull this look off, it would be Jenner, and she definitely did. 
Charlotte: I could not disagree more with Liv on this look. Yes it is very Karl Lagerfeld, but it's also very Kris Jenner. Kendall literally Krissed us at the Met Gala. This leotard made her look like some sequined-superhero whose cape got lost and ended up on her sleeves instead of her back. Kendall has done way better in the past, and this look was a shock for two reasons. I expected more, and it was just weird, but not in a Met Gala fashion weird, just weird.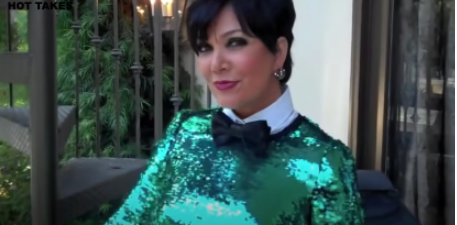 General "what" moments
Doja Cat & Jared Leto as cats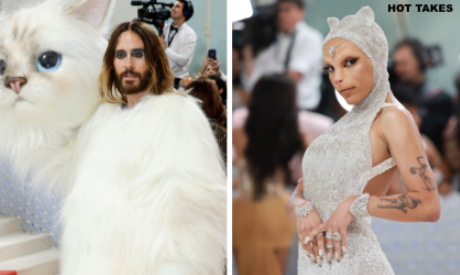 If you look up a picture of Lagerfeld, there is a high likelihood that you will see a cat, Choupette, alongside the German designer. Choupette was Lagerfeld's beloved companion, so when the Costume Institute's chief curator Andrew Bolton said "in honor of Karl", others heard this as "Choupette"; others meaning none other than Jared Leto and Doja Cat. Jared Leto proves each and every year that he is a force to be reckoned with and that he is there to make headlines, since he showed up in a literal catsuit. While we can't say we loved this look and thought it was lowkey inappropriate for the Met Gala, we were happy to see him honoring Lagerfeld (but more happy to see him take off the catsuit). Contrary to Leto's subpar catsuit, Doja Cat wore a glittering silver Oscar de la Renta gown with cat ears and prosthetics. This look could not be anymore her, and it reaches the standards we (two teenage girls who will never go to the Met Gala) set for the Met Gala.
Vogue Interviews with Chloe Fineman and Derek Blasberg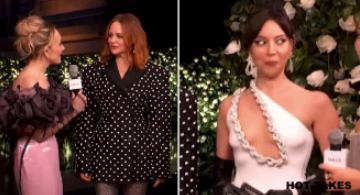 Chloe Fineman, actress and comedian on SNL, and Derek Blasberg, journalist and television personality, co-hosted Vogue's exclusive red carpet interviews. To start off, this duo was simply not good at interviewing (sorry not sorry). Okay, we get it, it must have been nerve-wracking interviewing all these celebs, but you are two of the biggest names in Hollywood right now, pull it together. At one point Fineman even asked Emily Blunt, who's character in The Devil Wears Prada constantly stresses over her weight and diet: "Are you one stomach flu away from your goal weight?" While this is a direct quote from the movie, this joke fell completely flat, leaving the rest of the interview uncomfortable and…blunt. Very unprofessional look from Vogue. We love nothing more than the annual run-in between Jack Harlow and Emma Chamberlain that we see in Chamberlain's Vogue interviews on YouTube, so maybe Vogue should consider people skilled in interviewing like Chamberlain for their red carpet exclusive. 
If you thought it couldn't get worse, it did. The seemingly most awkward moment of the night came from Fineman and Blasberg's interview with Stella McCartney, Madelyn Cline, and Aubrey Plaza. While introducing the guests, Fineman mispronounced McCartney's last name, called Plaza, "Audrey", and failed to remember Plaza's last name. Plaza and Fineman recently worked together on SNL, meaning this entire reaction could have been a skit, but it seemed a little too real for us. McCartney even went so far as to tell Fineman she wasn't taking the interview seriously. Us and every other news source on the internet could be reading this entire interaction wrong, but by the looks of Plaza and Cline's shocked faces, it seems like Fineman and Blasberg's Vogue interviews were a one time thing. 
Overall, this year's Met Gala was pretty successful. We would definitely consider it an upgrade from past years' catastrophic outfits. We can't wait to see what Anna Wintour has in store for us next year!
XOXO, 
Liv and Charlotte