What to Know About Climate Change
Why climate change matters to Gen Z and how the Biden Administration needs to address it
Taking office at a crucial time in American history, President Joe Biden's administration faces urgent social, economic, political, and environmental issues. More than any other generation, Gen Z uses social media as a platform to promote these essential issues. The Lance wants to use our platform to raise awareness about the issues that matter to our generation and that we hope President Biden will prioritize in his first 100 days.
Although President Donald Trump credits himself as a "great environmentalist", he refuses to acknowledge the scientific evidence that the climate is changing. His decision to withdraw the United States from the Paris Accord worsens this problem because U.S. greenhouse gas emissions will increase by three percent by 2030 without the accord. There have also been serious rises in sea level and global temperatures, and extreme weather has become more frequent and severe. Since the early 19th century, Earth's atmosphere has warmed by almost 1 degree Celsius (1.8 degrees Fahrenheit). In turn, the ocean has also risen by about 15 centimeters (6 inches) over the past 100 years.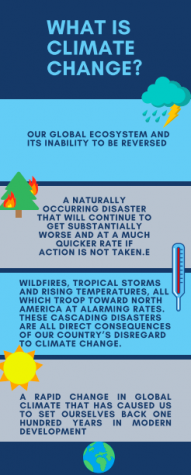 Our generation is worried, and the government needs to step in and acknowledge that global warming is prevalent and changing the world daily. Senior Luke Simeone said, "We have to do something soon before it is simply too late." How we and the Biden administration choose to deal with that in the coming years will determine the safety of the planet we call home. Although the damage we've made thus far is irreversible, that does not mean there aren't measures that can be made to maintain some control.
Gen Z has been no stranger to social and political issues, but breathing clean air and keeping our planet safe are issues that touch every single one of our lives. Even if we aren't paying close attention to climate change, we've all noticed how strange the weather has been lately. Senior Jamil Mouehla said, "There's no way global warming is not a real situation, because how does it go from 39 degrees in November to 62?" It is up to the Biden administration to set a plan that combats the climate challenges we face.
The government must implement better policies that can help us combat these challenges, like reducing standard greenhouse gas therefore allowing for more clean energy to be used, such as wind power. They must also get other countries to take action, and rejoin the Paris Climate Accord. There are many other significant changes that need to be made both by the government in our personal lives, but there is no doubt that changes need to be made. We experience the effects of climate every day, but it's not too late to slow the pace of climate change. As long as we act today, we can face the challenge and save our futures.