The Rapid Increase of Human Trafficking Cases is a Cry for Help
Gen Z wants the Biden Administration to address human trafficking
Taking office at a crucial time in American history, President Joe Biden's administration faces urgent social, economic, political, and environmental issues. More than any other generation, Gen Z uses social media as a platform to promote these essential issues. The Lance wants to use our platform to raise awareness about the issues that matter to our generation and that we hope President Biden will prioritize in his first 100 days.
43,200. Karla Jacinto, a human trafficking survivor, was raped 43,200 times. Trafficked when she was just 12 years old, Jacinto had to endure four years of sexual assault, from up to 30 men a day for seven days a week. While Jacinto was eventually rescued at age 16, her experience caused a lifelong trauma that will stay with her forever. Now that the Biden Administration is in office, it must work to solve this national human trafficking issue.  
The Trump Administration did take action to end human trafficking. In 2018, former President Trump signed legislation into law that would stop online sex trafficking and hold perpetrators accountable for their actions. He also issued an Executive Order to crack down on organizations that used human trafficking and created an Interagency Task Force to Monitor and Combat Trafficking in Persons (PITF). 
However, there is still more do. The International Labor Organization estimates that over 2.4 million people are forced into labor by trafficking, which is no surprise, considering human trafficking situations increased more than 40 percent in the US from 2019 to 2020 alone.  
This immense increase in human trafficking shows how prevalent the problem has become, especially here, where people might least expect it to happen. In Newark, New Jersey, more than 20 girls from Ghana were promised an American education, but ended up being trafficked. Traffickers forced them to work in hair-braiding salons for 14 hours per day with no pay, hiding them in plain sight and holding them captive for over five years.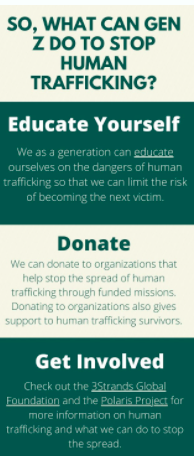 Our generation is growing up in a dangerous world, where teens are afraid to walk home alone, let alone go out at night. Not only is our freedom at risk, but our lives are too. Gen Z wants to see change–we want the numbers to drop.
The Biden Administration must pay attention to the issue of human trafficking and enforce the measures necessary to make progress. In July of 2020, President Biden pledged to enact immigration policies that would protect survivors and crack down on human trafficking, and even claimed that he "will make it a priority to combat this terrible crime." President Biden must stay true to his plan and keep his promise of making human trafficking a top priority. The president's policies can gear the US in the right direction, making us one step closer to solving this global issue. Our goal is to stop the spread of human trafficking, one policy at a time.