The "Ugly" Rockefeller Christmas Tree
Rockefeller Center displays wimpy Christmas tree for 2020
During the holiday season, New York City is an iconic destination for people worldwide, and for a good reason: the beautiful window displays, Christmas decorations in the streets, and the red and green lights shining from the top of the Empire State Building. While these are all joyful sights in the city streets, the most iconic NYC Christmas decoration is the Rockefeller Center Christmas Tree, but this year the tree did not bring its normal joy with it.
Standing over 75 feet tall, the Norway spruce with its bare and straggly branches was brought into New York City from Oneonta, NY on November 14, and people on Twitter immediately started trash-talking the tree. Within a few hours, critics and Twitter trolls pounced on the opportunity to make memes about it and flooded my Twitter feed- comparing it to the A Charlie Brown Christmas tree and Treebeard from The Lord of the Rings.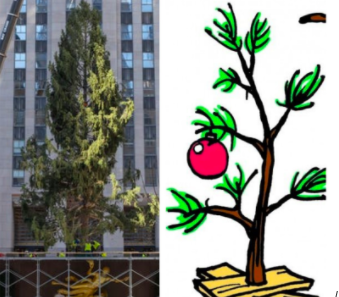 From COVID-19 to a stressful presidential election, 2020 has not been easy for anyone- and this tree represents it perfectly. Especially because of the new visiting regulations in place this year, it is hard to stay connected to my favorite Christmas celebration. Overall, I like to think of this tree as a small break for all of us to laugh- and a laugh that would help shine some light into a dark year. We all were put through some very challenging obstacles within one year, and with all of this to worry about, it was nice to see people collectively make fun of something, without arguments or pointing fingers.
However, we still get to see the tree (which WAS "fluffed up" after its arrival), even if it is from a live stream from a computer screen or a brief visit to the city, and for me, that is 100% okay for this year.