The Holidays Run on Dunkin'
A definitive ranking of Dunkin's three holiday drinks
There are so many ways to get into the holiday spirit: cooking your favorite Hanukkah dish with family, decorating your Christmas tree, or shopping for gifts. But, personally, nothing compares to enjoying a sweet, holiday-inspired drink by a cozy fire while watching my favorite Netflix show on a cold winter day. One thing remains certain this year— we still have Dunkin' holiday drinks to bring us warm (or chilled) vibes to keep us connected with the holidays. If you're trying Dunkin's holiday drinks for the first time, here they are, ranked from worst to best:
3. Chai Oatmilk Latte
This festive beverage consists of sweet chai tea and velvety oat milk and is upgraded with blended spices including cinnamon, nutmeg, and cardamom. This drink is perfect for those that crave extra-sugary drinks with just a splash of caffeine. 
I'm going to be honest, this was my least favorite holiday drink. The nutmeg in this drink was very strong and overpowered the other ingredients in the chai. However, the oat milk lessens the chai and makes for a good, creamy consistency. Even though it's not my favorite, this drink makes for a perfect and merry morning, or even a cozy evening watching your favorite Netflix shows.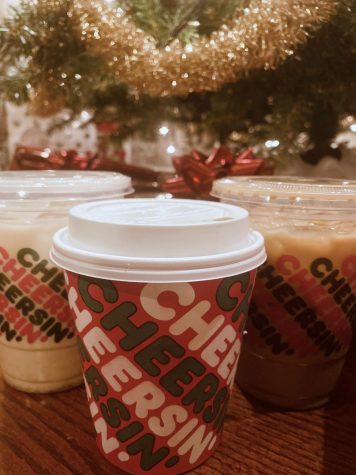 2. Signature Peppermint Mocha Latte
There's a reason why this is Dunkin's most popular drink for the holidays and is a close #1 on my list: hot and refreshing, this latte is a perfect morning drink to refresh and bring comfort for the holidays! Concentrated with both peppermint and chocolate, and coated with whipped cream, mocha drizzle, and hot chocolate powder, this drink gives a boost of energy in the morning and is both a rich treat and a crisp mint. 
This drink is a definite close second because of its rich chocolate flavor. I was skeptical of this drink at first because I am not a big fan of peppermint, but the combination of both chocolate and peppermint evened each other out. This foamed, creamy drink really got me into the holiday spirit, even while studying for my precalc test. 
1. Signature Gingerbread Latte
Strongly gingerbread-flavored with a mild but distinctive taste of cinnamon, this drink spices up an average latte with whipped cream, caramel drizzle, and cinnamon sugar on top. Combined with an afternoon of decorating gingerbread houses or baking gingerbread cookies, this drink is sure to satisfy all your sugar cravings and bring you all the holiday feels from just one sip. 
This drink is my favorite out of all three because of the combination of gingerbread and coffee flavors. Iced, the gingerbread flavor weakens the dull taste of plain coffee and instead enhances it into something much sweeter. My only concern is that this drink will only completely satisfy those that love the taste of gingerbread, as the flavor was a bit too much for me and I had to add more milk to even it with the coffee.  
With a lineup of sweet, fan-favorite drinks, the holidays are guaranteed to be full of laughter, life, and lattes. 

Loading ...