Rom Coms That Will Ruin Valentine's Day
Saving You From the Worst Rom Coms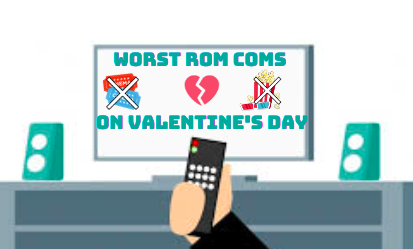 Absolutely nothing is worse than sitting down to watch a movie and relax on Valentine's Day, and then hating the movie. Actually, I take that back. The only thing that is worse than that is when the movie is a bad romantic comedy. Between the unfunny jokes and horrible chemistry, if you see a bad rom com on Valentine's Day it can really ruin your day. So, I decided to compile a list of ten rom coms you should avoid at all costs.
He's All That
Addison Rae should stick to dancing and making TikToks, but even if her acting was top notch, it couldn't have saved this tragic 2021 film about an influencer who bets that she can make an unpopular kid into a prom king. The jokes didn't hit they way they were supposed to, causing intense amounts of cringe and distaste. I am sincerely sorry if you had to watch this, but maybe your Valentine's Day movie-watching experience can be salvaged if you watch the superior OG movie She's All That.
Love & Gelato

This 2022 movie based on the 2016 book by Jenna Evans Welch falls under the very controversial category: "Is the movie or book better?" In this case, the book is definitely better. Someone tell the costume director to take note from Emily in Paris. Oh, and get the main character Lina on the next flight out of Italy after walking the streets in an MIT sweatshirt, jeans, and a DIY belt. Other than the crimes committed against the fashion industry, the movie is very different from the book to the point where it's almost unrecognizable: the setting, the characters, and the ending are all changed in some way. Instead of wasting your time watching Love & Gelato, eat some gelato.
The Kissing Booth Series
This is one of the worst movie series ever made. Each of these movies is filled with boring clichés (the idea is literally centered around a kissing booth…an 11-year-old could come up with that), romances that don't live up to the expectations, and really serious issues that go unaddressed, such as sexism, the objectification of characters, and aggression. Noah's manipulative behavior towards Elle, the "boys will be boys" mindset that excuses everything, and much more sends young female viewers very negative messages. So not here for it. These movies are like a combination of all the bad parts of every rom com ever made.
Something Borrowed

Something Borrowed…more like something bad. Bad plot lines, bad messages, and overall, just bad. While I do love Kate Hudson as much as the next girl and will continue to watch How to Lose a Guy in 10 Days on repeat, this movie just doesn't do it for me. Something Borrowed focuses on a childhood friendship between two women ending over a man. A man. And to make matters worse, every single one of the characters in this movie is toxic and drama-filled. This movie falls under the rom com category, but I wouldn't even consider it a rom com because of how little I laughed while watching it. I'm definitely not supporting men ruining women's friendships, and I'm definitely not watching this movie ever again.
The Last Summer

After watching this movie, the one thought that popped into my head was: "I feel like I've watched this before." Clearly, the rom com industry reuses their plots. The Last Summer shows a friend group's transition from their teenage years to adulthood throughout one summer together. Even though it's a feel good movie, it tries to do too much. It focuses on too many characters and relationships which makes the movie much less enjoyable. This cast, including KJ Apa, Maia Mitchell, Tyler Posey, and more, had the potential to be one of the best 21st century rom coms, but like the other movies on this list that you should avoid, it failed to reach its potential.
Shallow Hal

You might be wondering how it could get worse than some of the movies above, but just wait until you hear about Shallow Hal. This 2001 film is about a man named Hal (Jack Black) who had always focused on the physical attractiveness of women. However, Hal then encountered a self-help guru who hypnotized him into focusing less on the physical attributes of women and more on their inner beauty. First of all, Jack Black starring in any romantic movie–other than The Holiday of course–makes me immediately want to turn off my TV. Secondly, this movie has been criticized for perpetuating the negative stereotypes surrounding overweight women. Although it (weakly) attempts to send a positive message that it's what's inside of people that matters, there really was no point to this movie even being made if it was going to continuously joke about overweight women; even the movie poster sends this message. If you're looking for some Jack Black entertainment on Valentine's Day, I would recommend Jumanji or Kung Fu Panda over this, and that speaks for itself.
The Hating Game
This might be an unpopular opinion, but this movie does not deserve anywhere near the five stars some people give it. I love Lucy Hale, specifically in Pretty Little Liars, but the casting of Austin Stowell dragged down this movie. The book that this movie was adapted from really set up the male lead to be dominant, masculine, and cold. But Stowell just gave off scrawny, beta vibes. Nevertheless, the actual work enemies-to-lovers idea of the movie was a really good one, except for the fact that the plot was all over the place. Something would happen and then something completely opposite would happen not even five minutes later. This movie was unnecessarily confusing. Also, if you have any interest in watching this movie at all (which I don't know why you would after reading this), don't watch the trailer because it is literally a summary of the entire movie. There are much better movies out there with trailers that don't spoil everything.
Alex & Emma
While you guys know I love Kate Hudson, that doesn't mean every rom com she's in is good. She's also the star of this rom com centered around none other than the boss and employee romance trope. From the beginning of this movie, viewers knew how it was going to end and I, as a viewer, can confirm I was right. This movie isn't really very romantic or comical, which means that it fails on both ends of the rom com spectrum. Nothing exciting happens in this movie and it can be buried alongside Something Borrowed as one of Hudson's worst movies.
Sierra Burgess Is a Loser

Sierra Burgess Is a Loser came out just two weeks after the series Insatiable came out, and they both tell pretty much the exact same story about a teenage girl accepting who she is and that she's worthy of love. One of the only good things about this movie was when it was released, and since Insatiable is so beyond bad, it makes Sierra Burgess Is a Loser seem a little better than it is. In reality, this movie is not good. The main love story doesn't live up to expectations at all; it'd be better just to make it into a comedy and scrap the whole romance part. Although this movie tries to send a good message to teenage girls, its plot is full of ignored issues, including transphobia, homophobia, and a non-consensual kiss. Overall, this movie is really just mediocre and not worth viewers' time.
The Perfect Date
This movie came after its lead Noah Centineo became every 12-year-olds crush because of To All the Boys I've Loved Before. But I am happy to announce I was never victim to his cupid's arrow…and this movie proves why. The plot of The Perfect Date is about a guy who creates an app to be someone's fake date in order to earn money for college. There's no substance and it's so hollow it feels like it was made just to boost Centineo's popularity. It's giving absolutely nothing. Combined with Centineo's inferior acting after To All the Boys I've Loved Before and classic teen rom com clichés, this movie falls to the very bottom of my "enjoyed watching" list.
Overall, there are much better rom coms out there than the ones named above. If you're looking to actually enjoy your Valentine's Day, don't watch these movies.