For all the lonely Starbucks lovers
Taylor Swift's Eras have a V-day heartbreak song for you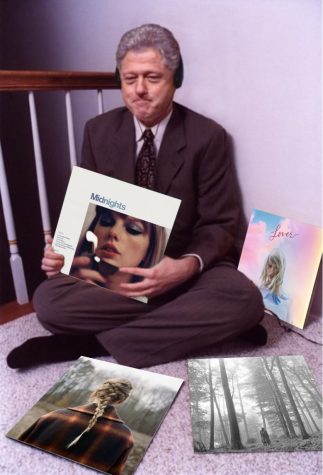 For anyone not in a happy relationship, Valentine's Day can bring sadness, disappointment, and envy. But don't worry, if you have Bad Blood with Valentine's Day, Taylor Swift has your back. In keeping with Swift's upcoming Eras Tour, which covers songs from all of her released albums, here are songs from each of Swift's Eras for whatever emotions you find yourself experiencing on this controversial day. 
Taylor Swift: "Picture to burn"
Swift put every ounce of her breakup rage into this angsty country-rock hit from her self-titled debut album. If you're still in the anger phase of a breakup and just need to let out some rage, put on your worst country accent and shout this while you strike a match on all your wasted time—metaphorically (The Lance does not condone arson). 
Speak Now: "Back to December"
While Swift is usually the heartbroken subject in her breakup songs, "Back to December" sees Swift apologize and take the blame for the end of a relationship. Even if you were the heartbreaker, letting go of a relationship when the other person still loves you can be painful. If Valentine's Day is making you mourn an old flame you let go, consider giving "Back to December" a listen.
Fearless (Taylor's Version): "Mr. Perfectly Fine"
It can be painful to see an ex happy or with someone new while you're still heartbroken, so if you're feeling a little like Miss Misery this Valentine's Day, "Mr. Perfectly Fine" is the perfect song for you. Its mix of stone-cold, bitter sarcasm and genuine frustration makes it great for a venting session.
Red (Taylor's Version): "All Too Well (10 Minute Version) (Taylor's Version) (From the Vault)"
Just between us, did the love affair maim you all too well? 
It certainly maimed us, Miss Swift. 
The original "All Too Well" was already heartbreaking, but the extended version from the re-release of 'Red' is heart-shattering. Nothing is more cathartic than singing out the lyrics of this 10-minute masterpiece. If you pair it with the short film, you'll want to have tissues on standby.
1989: "Welcome to New York"
Take your broken heart and put it in a drawer with this upbeat song about new beginnings. Even if you have absolutely no plans to move to New York in the near future, "Welcome to New York" is perfect if you're ready to move on from heartbreak and start anew.
 Reputation: "New Year's Day"
Glitter, candle wax, and Polaroids on the floor, girls carrying their shoes in the lobby. Taking place in the aftermath of a big, flashy New Year's Eve party, Swift describes the post realization of the fear of losing someone close to you when in love. This slow song is the perfect outro which exposes her vulnerability which comes with loving someone after an upbeat, fun album.
Lover: "Death by a Thousand Cuts"
Even one of Swift's happiest albums has a heartbreak song for all the girlies who haven't quite entered their own Lover era yet. While the music is upbeat, the lyrics pack a painful punch as Swift describes the end of a relationship where two people genuinely loved each other, but just became distant, comparing the experience to a long, slow death. If you find yourself in this situation, give "Death by a Thousand Cuts" a listen.
Folklore: "the 1"
Soulmates don't always end up together. The second song on her album, Folklore, shows a realistic portrayal of the aftermath of ending a relationship. While the song's character tries healing from a breakup, lingering thoughts still remain, "if one thing had been different, would everything be different today?"
Evermore: "no body, no crime" ft. HAIM
If you're looking for a healthy dose of revenge fantasy, look no further. "no body, no crime" is a folk revenge ballad telling the story of a cheating husband who kills his wife, Este, and then gets killed by Este's friend. With its storytelling surrounding the affair turned crime scene, this song is a departure from her traditional breakup songs, but that makes it the perfect song to sing with your friends post-breakup. It has the same vibes as Carrie Underwood's "Before He Cheats," just switching tire slashing with murder.
Midnights: "Would've, Could've, Should've"
From the 3am tracks of Swift's newest album, Midnights, "Would've, Could've, Should've" describes the trauma Swift experienced as a teenager from a relationship with a man over ten years her senior that left her scarred. Breakups are always difficult, but this one in particular stings more than Swift's usual breakup songs with its imagery comparing the relationship to 'dancing with the devil.' If there's a relationship that you fully regret, this song could offer therapeutic emotional release.