My Annual Holiday Itinerary
My favorite ways you can have fun this holiday season to make up for last year's.
Although the 2020 holiday season did not live up to our expectations, this year's is definitely more promising. Last year, video-calling my distant relatives was a let down compared to previous years full of hugs and love. Instead, I was stuck dressing up my dog in a festive sweater that she ended up ripping. 
Since in-person traditions have made a comeback, I have been especially looking forward to the holidays. As we face the growing dominance of another COVID variant, I'm not going to take these opportunities for granted and aim to make the most of the situation by bonding with friends and family. From listening to Christmas music to baking festive treats, here are some of my favorite activities to get into the holiday spirit: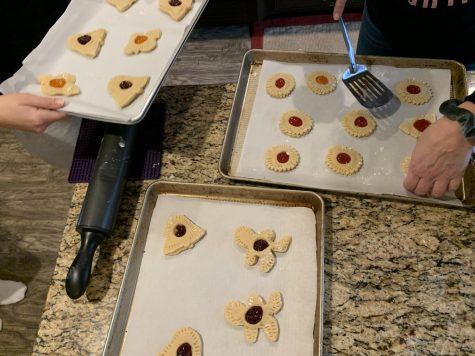 Being stuck inside on a chilly day means one thing: baking. I, for one, prefer to buy pre-made cake mix because there is less room for making mistakes, but starting from scratch is just as fun. The smell of sugary goods seeping out of the oven quite literally makes me drool. Plus, a surplus of treats also means my friends and neighbors will get some too, which leads me to my next activity…gift giving.
Any type of gift giving is a holiday must, but my favorite way to do it would be a fun game of Secret Santa. Personally, my friends and I partake in Secret Santa every year, and I love going above and beyond to make sure they know just how much I care about them, especially after years of COVID. Last year, I dropped off all my gifts on doorsteps and waved to my friends six feet away. This year, I can't wait to ring my friends' doorbells and give them a proper hug along with their gift. 
Once I finally have the perfect present, I find the best way to decorate the gift. No matter how many times I try to wrap it, I find myself searching for a tutorial or asking someone for help. The wrapping paper never seems to be cut to perfection, and I end up going through an entire roll of scotch tape so the gift stays hidden. But, hey, it's the thought that counts.  
Next on the list is an activity that is accessible year-round, but is way more fun during the holiday season: ice skating. The best laughs come from watching your friends or family clumsily slide around the rink, holding onto the railing for dear life, only to end up falling on their butts in a fit of laughter.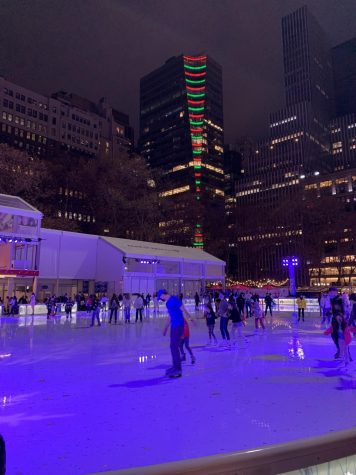 After stumbling out of the slippery rink, it's time to drink hot chocolate in the crowded ice-skate rental room while the Zamboni cleans the ice. One of my favorite locations for ice skating is the Van Saun Winter Wonderland in Paramus. Decorated with dainty fairy lights and cardboard gingerbread men, this spot, which was limited last year due to COVID, has an unparalleled sentiment of nostalgia. 
Speaking of ice skating, for a mere 45-minute drive by car, you can glide on the ice at Rockefeller Center in New York City and see the beautiful Christmas tree nearby. Being able to explore this area shouldn't be taken for granted despite the fact that it's available nearly every year. Bryant Park and Rockefeller Center are often crowded and chilly in December, but if you find a good spot and bundle up just right, your trip to the city can become a memory that lasts forever. 
But don't cut your trip to NYC short just yet—only one week after Christmas Eve comes New Year's Eve. As much as I want to say it is worth it to watch the ball drop in Times Square, I have only ever done so from the comfort of my couch, which, in my opinion, is just as fun. 
For me, the holidays are all about doing what makes you and your loved ones happy. In times of uncertainty, nothing is more comforting than those traditions and activities that every family holds near and dear to their hearts, no matter which holiday they celebrate.