Why You Need to Watch These New Seasons on Netflix
Netflix summer releases (recaps include spoilers!)
13 Reasons Why
Seasons 1 & 2
The show has touched on extremely important topics such as rape, suicide, and sexual assault since season one. However, many people disliked the way the show displayed some of these topics, in the past seasons. A majority of 13 Reasons Why's audience agreed that the show is insensitive to viewers who struggle with suicidal thoughts. Many mental health professionals advised (and still do advise) that people with mental health issues do not engage with the show. When the first season came out, some people said that the show had the potential to plant the idea to mimic Hannah's tapes in teenagers minds. However, the creators of the show did make the decision to edit and remove a graphic scene, in season one. This edit indicated that the creators of the show understood why it was wrong to broadcast such a graphic scene, especially since their demographic is mostly impressionable teenagers and young adults. However, I think the show, and all of the seasons, are important to watch. When 13 Reasons Why season one released, it started conversations about difficult topics such as depression, suicide, and the significance of getting help. The show put in an effort to offer crisis resources. These resources are typically shown after many of its episodes and on the 13 Reasons Why official social media accounts. I personally like this show, which seems to be an understandable unpopular opinion. Viewers discretion is advised because, I am not going to lie, the show is graphic, but it is still a good show.
Most Recent Season 
The first two seasons of 13 Reasons Why revolved around the suicide of Hannah Baker. Season three, however, dives deeper into the other character's lives. In this season, the plot revolves around the death of a fellow student, Bryce Walker, and how specifically 13 students (yes, the same 13 reasons from the prior seasons) had a reason to kill him. I found this extremely interesting as the show uncovers that it could have been any of these 13 students who killed Bryce while giving Bryce Walker a backstory (as to why he is so evil and cruel). I am not happy to say this, but I finished the season feeling sorry for Bryce. I felt myself hoping that somehow he would survive to make it to season four, even though I absolutely hated him in the first two seasons. my perspective of Bryce changing as watching season three completely depicts what season three is about and why I love it. The show digs deeper into Clay's character in a similar way. We find out that Clay is struggling with mental issues himself, while the audience had almost no idea he is dealing with anything like that, prior to this season. He has dealt with so much loss and pain, so it makes sense Clay needs the most help. Also, Jessica's character seems so much stronger than she had ever been. It is incredible to watch a person who dealt with so much pain and fear be able to now stand up for herself and others. Oh and I didn't mention, you will never believe who killed Bryce. I'm not going to tell you, you have to watch for that, but if you are going to watch for anything, watch to find out.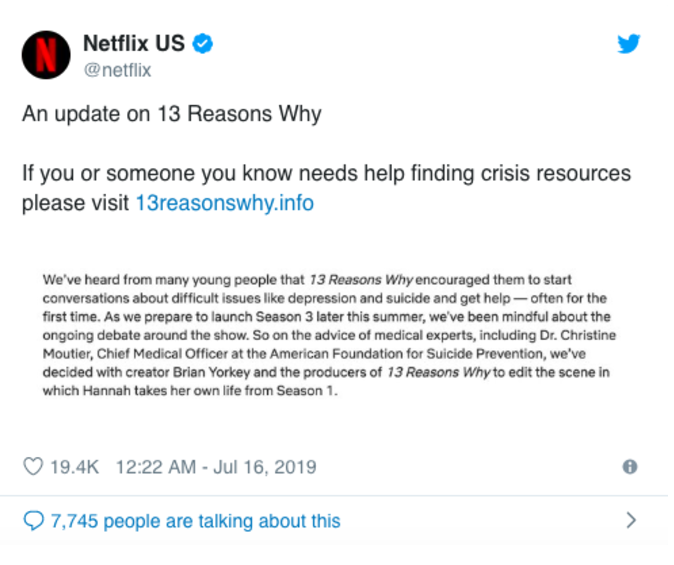 The Good Place
Seasons 1 & 2
This is a show that is centered around what happens in the afterlife, and while it is not based on any religious belief, "The Good Place" and "The Bad Place" signify an idea of heaven and hell. In season one, we meet our four main characters, Elenor, Tahani, Chidi, and Jason. The audience watched these characters who we grew to love constantly be tested on being a "good" person in different ways. At first, Elenor, Tahani, Chidi, and Jason were placed in what they thought was "The Good Place". But, it turned out that this place was actually a torture chamber pretending to be "The Good Place." The purpose of this was to force the characters to live a life similar to hell without even being aware of it. After the characters uncovered the truth as to where they truly were, they band together to make an escape from this newfound "Bad Place".
Most Recent Season 
In season three, the audience watches each character develop in different ways. "The architect" who was originally a villain ends up serving as a father figure to Elenor, Tahani, Chidi, and Jason. The main themes of season three include the importance of friendship, chosen families, love, and what it truly means to be a good person. This season displays an interesting approach as to what it means to do "good", specifically on Earth. Suddenly, Elenor, Tahani, Chidi, and Jason are thrown back into earth to test their abilities. The audience learns that being a "good person" is harder than we would expect it to be because earth is cruel. This show is phenomenal and season three is no exception. It is a show that truly makes the audience think, especially since audiences can relate to the characters' lives.