Fundraising With a Kick of Green
NVOT fundraises for the March of Dimes during St. Patrick's Day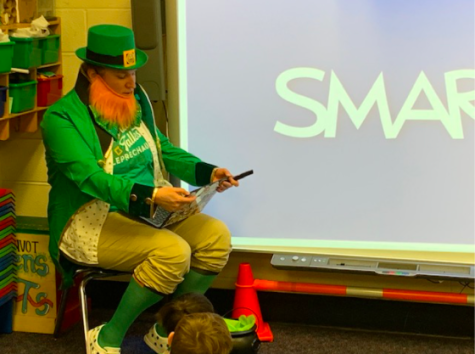 This St. Patrick's Day, NVOT traded in the Golden Knight for a green leprechaun. During the first two weeks of March, students and staff raised money for the March of Dimes to support mothers and babies who faced premature births. Ten teachers volunteered to participate in a competition, and the teacher with the most amount of money would dress up as a leprechaun. The winning teacher would then read a children's book to the tots while in the costume.
These ten different teachers (Economics teacher Thomas Walsh, Math teacher Jacquelyn Bonafede, Spanish teacher Veronica Chavez, English teacher Stacie Collins, Physics teacher Mustapha Elqariani, Science teacher Kevin Hughes, Social Studies teacher Christine Massaro, Media Specialist Courtney Reinfried, Wellness Coordinator Gina Restivo, and English teacher Brook Zelcer) battled it out against each other, encouraging students to choose them by donating to their collection bins. Daily check-ins on the amount of money that each raised upped the tension and the level of competition between them. 
Senior Ari Lim found herself enjoying the friendly competition between her teachers saying that, "It was really fun to see some of my teachers who would always tell us in class to donate money to help them win the competition. I definitely would like to see them in a leprechaun costume too."
Junior Seho Lee also noted the fun spirits that were shared among students and staff as the competition progressed. "Watching my teachers battle it out amongst themselves was not only entertaining, but also very encouraging for us students to contribute to this good cause."
The fundraiser raised over $500, and after two weeks of fundraising, Massaro won. With a spirit of friendly competition running throughout the school, Student Council advisor Lydia Greco said, "Everyone seems to be enjoying it. I think people are having fun and also are happy to support a good cause." 
The Student Council hopes to continue this fundraiser as an annual event: "We would definitely do this again in the future and for different holidays possibly," said Greco.