Bye Bye Brady
A Hater's Guide to the NFL GOAT's Best Worst Moments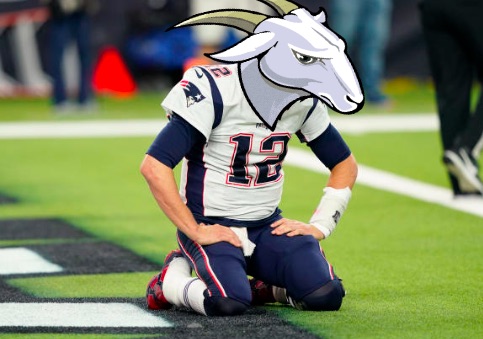 A chapter of the NFL that many of us grew up in and cherished is finally coming to a close. 
As Tom Brady clears out his locker one final time, it's clear he will go down as the greatest player to ever throw the pigskin–or even touch it, for that matter. But his unprecedented, unmatched success caused a large majority of football fans to grow tired of seeing him winning. So they (and I) became accustomed to rooting against number 12 (not to mention all of the scandals and controversial calls that took place during his time in New England). As the seven-time Super Bowl champion's accolades and accomplishments are being celebrated by various news outlets, I have reflected on his 23-year record-breaking career by highlighting the best of Tom Brady's worst moments.
A nearly perfect season
In 2007, Tom Brady and Randy Moss terrorized the league, running through every team in the regular season with the best record in NFL history; 16-0. When the playoffs came, Brady and the Patriots kept their undefeated season hopes alive with a 31-20 win over the Jaguars in the Divisional Round, followed by a 21-12 win over the Chargers in the AFC Championship. That's when everything went wrong (for him). The underdog story of the New York Giants was too much for the overwhelming favorites of the New England Patriots. The infamous David Tyree helmet catch led the way in the G-Men handing Tom Brady his first-ever Super Bowl defeat, and bringing tears of joy to diehard football fans all across the nation.
Another Giant obstacle
In 2011, having more success than anyone would've predicted from the 199th pick in the draft, Brady set his sights on yet another Super Bowl. Coincidentally, another underdog Giants team with a less-than-impressive 9-7 record met the heavily favored Patriots in the Super Bowl again. History repeated itself with Brady coming up short in a potential game-winning drive in the waning minutes of the 4th quarter. Once again, the longshot Giants led by Eli Manning prevented Tom Brady from adding another ring to his collection.
Beaten by a backup
In 2017, Tom Brady was coming off a historic, 28-3 comeback against the Falcons to bring his 4th Super Bowl back to New England. Looking to go back-to-back, another major NFC East underdog stood in his way. The Philadelphia Eagles had lost MVP candidate Carson Wentz at the end of the regular season making their Super Bowl appearance that much more improbable. With (now) Philly hero Nick Foles under center, the Eagles had become the dark horse, seeking their franchise's first Super Bowl victory and putting on a performance of the ages. It had become clear that the NFC East was Brady's kryptonite after Foles headlined the game with his touchdown reception on the "Philly Special". A longtime backup, with close to zero playoff experience, had outplayed Brady, with his four total touchdowns to Brady's three. The Eagles 41-33 victory stunned many and yet again, gave us all something to cheer about.
Going out (not) on top
After a clear dropoff in athleticism and performance in 2021, failing to win his eighth Super Bowl with a Divisional Round loss to the Rams, Brady announced he would be retiring. This lasted just over 2 months when he decided 22 years wasn't enough. This year, Brady would be without his go-to-target Rob Gronkowski and head coach Bruce Arians. His decision immensely backfired for him as he put together an 8-9 record, his first ever NFL losing season, barely sneaking into the playoffs by winning the horrendous NFC South. The Buccaneers took on the shaky Dallas Cowboys at home in the Wild Card where Brady put on one of his worst-ever playoff performances. He completed an abysmal 35 of 66 passes and put up a 72.2 passer rating. In Brady's last-ever game, the Cowboys got their first-ever victory against him. The GOAT's final game of his career was a blowout 31-14 loss, breaking what was a perfect 7-0 record that he had against Dallas.