Back to the Fashion
The top fashion trends of the past decade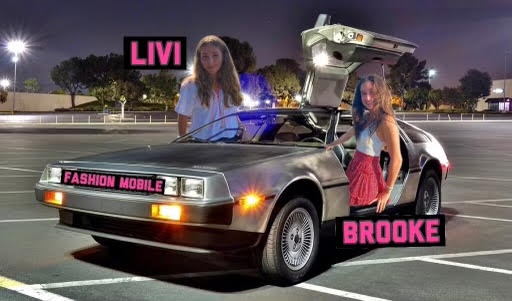 In the past ten years, the world of fashion has been categorized by new fads, ranging anywhere from flared pants, to wild accessories, or even crocs. The trends were so iconic that we just had to dive into our closets to recreate the looks and take a trip down memory lane. 
With that being said, some of our favorite (and not so favorite) trends have been swept under the rug. But who knows, maybe they could make a comeback one day. In case that ever does happen, here are a few of the biggest fashion trends from the past 10 years you probably forgot about…
2011: Fur as a coat? Feathers as accessories? Neon colors to blind pedestrians on the street? 2011 was for sure a bold year filled with citrus colors and high waisted flare pants, and we are so here for it. Personally, the Blair Waldorf inspired headband look is a favorite of ours If you added some skull print to your wardrobe, you would be more than ready to take a trip back to 2011, just like we tried to do here… 
Pictured: citrus colors and high waisted flare pants
Honorable Mentions: colored denim, fur and feathers, big headbands, neon, skull print, and platform sandals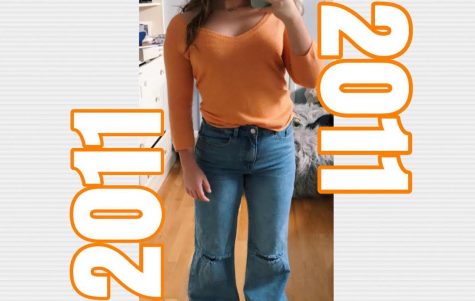 2012: Fashion in 2012 definitely stood out… animal print leggings, wedge sneakers, embellished sweatshirts, and of course —the comeback of leather. Here's our recreation of some of those statement items from this year: 
Pictured: embellished sweatshirt and leather pants
Honorable Mentions: wedge sneakers, statement pants, animal print leggings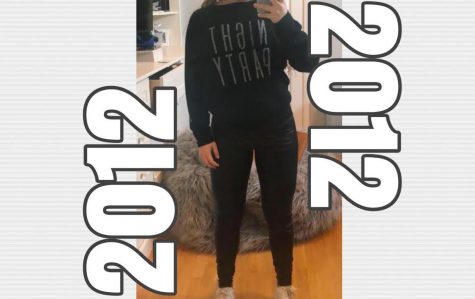 2013: Leather was clearly here to stay, and we weren't mad about it. Just look how well it pairs with our personal favorite of 2013: statement sunglasses. See below how we tried to block out the sun (and the haters) with this 2013 outfit that is totally bae.
Pictured: statement sunglasses, coat worn over shoulders, leather
Honorable Mentions: over-the-knee boots, halter necks, cardigans, low-rise pants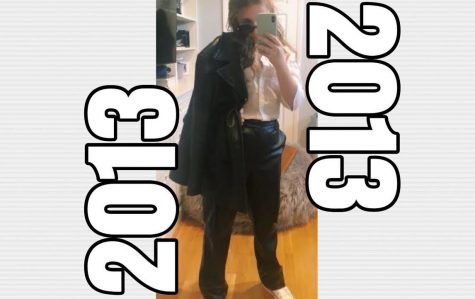 2014:  Denim, denim, and oh, more denim! That's the best way to describe 2014's vibe. Oh, and we have to of course thank the genius who made beanies a trend — they made bad hair days acceptable, and even stylish. Now all that's left to do is add a crop top underneath your denim-on-denim fit, and you're killin' it in the biggest 2014 trends. 
Pictured: denim on denim and a crop top
Honorable Mentions: beanies, overalls, pantsuits, lace dresses, high-low skirts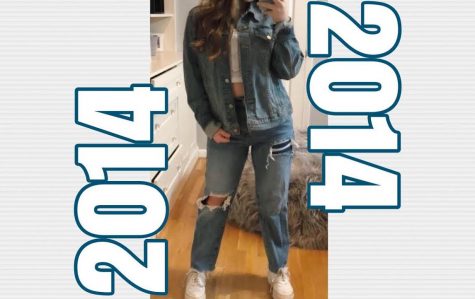 2015: 2015 really CUT into the 2014 trends, taking that denim look and putting its own spin on it: distressed jeans! But, what year of fashion is ever complete without new accessories? We personally loved adding some stacked rings, maybe a bandana around your neck, and slip on those sneakers for a complete 2015 look that's #goals, like we've done here… 
Pictured: athleisure and distressed jeans
Honorable Mentions: front button skirts, bandanas, stacked rings, layered neutrals, slip on sneakers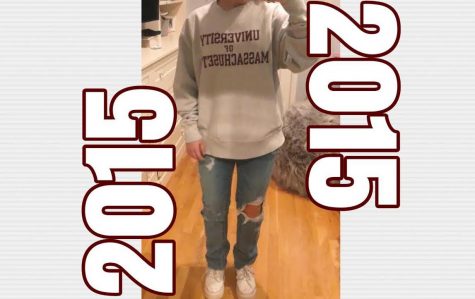 2016: 2016 style slayed… in fact, our fan favorite of the year was the famous choker necklaces that made a comeback. 2016 also took on 1960's vibes as everyone styled their bomber jackets and baseball caps. See here how we stayed on fleek with the 2016 trends… 
Pictured: chokers, bomber jacket, and a denim skirt
Honorable Mentions: off the shoulder tops, baseball caps, high necklines, the "no pants" look, septum rings
2017: 2017 brought us some savage looks: plaid, ruffles, and our personal favorite — the return of the crocs: the water shoes that are lowkey a fashion statement. This year needed two different outfits to do its trends justice, so here's our double spin on 2017… 
Pictured: plaid flannel and the color red
Honorable Mentions: paper bag waist pants, sheer clothes, floral, solid color outfits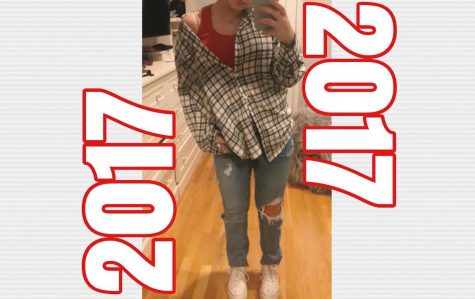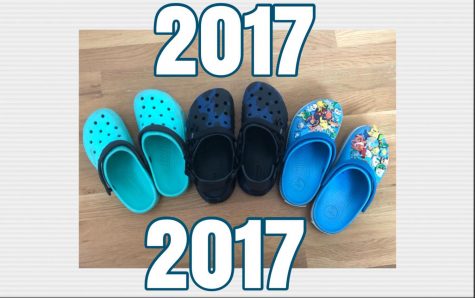 2018: 2018 trends were truly all over the place — everyone stayed cozy, including us, with the rise of sherpas, but boujie on the party scene by rocking sequins, pearls, and fanny packs. But 2018 was also in need of some statement clothes, so pair that fanny pack with either some leopard print or camouflage and you're ready to take a flashback into 2018, just like we did here… 
Pictured: dark denim, high waisted pants, camouflage 
Honorable Mentions: leopard print, pearls, sequins, sherpa, fanny packs, and tiny sunglasses
2019: Remember the rise of the "VSCO girl"? That was the tea back in 2019. A basic name for such an iconic look…bucket hats, scrunchies, oversized t-shirts–you name it, 2019 had it. Not to mention puff shoulder shirts and patchwork detail, all complimented by mini bags. We just had to have a go at trying to recreate such a snatched look: 
Pictured: VSCO girl aesthetic (bucket hats, oversized t-shirt, nike athletic shorts)
Honorable Mentions: the color lavender, animal print, puff shoulders, patchwork, mini bags, matching sets
2020: 2020 was the year of the pandemic — need we say more? This year's fashion was nothing more than trendy loungewear and lots of sweatpants so we could feel comfortable yet stylish for our dates with the couch. And of course, what would 2020 be without pairing a mask with every single outfit you could possibly imagine? Here's our favorite quarantine fit (with ample masks) that helped us survive the past year… check out the drip. 
Pictured: the rise of masks, sweatpants, sweatshirt, slippers
Honorable Mentions: tie dye, fancy top with pajama pants, and food stains
2021: Although 2021 has just begun, new fashion is all around us, kind of like the pandemic… So, with COVID still lingering, people have found ways to make safety fashionable. Pair a bedazzled or designer mask with an oversized sweater vest, mini bag, or maybe even cow print, and you're on the road to rockin' 2021. 
Pictured: designer and trendy masks, baguette bags, oversized sweaters vests, tennis skirts, chains, doc martens
Honorable Mentions: brown, zebra and cow print, zip up sweatshirts, blazers, painted jeans, air jordan sneakers
After rekindling our love for some of the top fashion trends of the past ten years, we now very much understand why those paper bag waist pants are in the back of the closet, or why wedged sneakers never truly made a real comeback. But, regardless of those trends that should really stay in hibernation, we also found an appreciation for some trends that we hope stick around (personally, bucket hats will always be a favorite). So I guess the question becomes: will the next 10 years bring us new trends, or will we have to go fishing through our closets to pull out another 80s look?
Oh, and here are a few honorable mentions just in case you're feeling stylish…