Back on Track
The Golden Knights compete in the annual Bergen County Relays.
High school track athletes all over the nation have been yearning for some action, especially after two consecutive seasons without the New Balance Nationals or the Penn Relays. Fortunately, NVOT's track team was able to compete in the Bergen County Relays. During this three day event, which took place from May 6 to May 8, 49 teams traveled to River Dell High School to participate in 17 different events. 
The track team had a successful campaign in their division against eight other schools, placing highly in several events. The following teams were event winners in their specific field.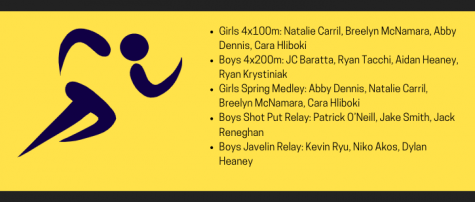 After a long period of time without proper competition, coach Peter Dunn said, "The fact that we can get back to some kind of normalcy with regard to the sports season is good for everyone involved but most importantly the seniors. They have been the ones most impacted by the COVID pandemic and I'm happy they are back out there." 
Many returning seniors on the team were excited after returning from a competition-less season. Senior JC Baratta said, "Losing a whole year in spring track and missing one of Bergen County's biggest and most exciting meets really had a big impact on me." He continued, "But seeing our team back at it this year felt amazing."
Other athletes agree that this experience was worthwhile, and was a great way to come back to the season. Junior Cara Hliboki said, "It was really refreshing and fun. I really enjoyed having good competition to run against. At the same time, it was kind of strange because I haven't felt challenged in my races in a while."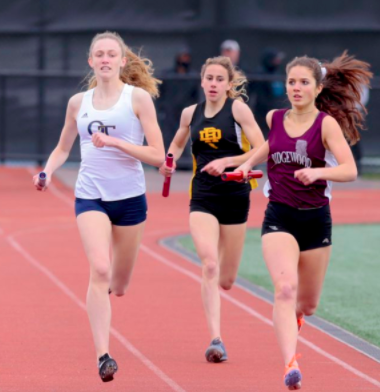 While the environment was "hectic," according to Hliboki, the Bergen County Relays proved how hard each individual athlete has been working. Hliboki was proud of the team effort as they look to continue to train for the duration of the season: "It really allowed the team to show what we've been training for since last spring, and we hope to continue to bring that energy in the next coming weeks."