The Lance Eats Sushi: Phoods, Photos, and Phozilla
Every day is a scramble to find better food: some might taste delicious and some might not. In search of better quality and better-tasting food, I am on a mission to find the best places to eat and to take artsy food pics in the North Jersey area.
Aside from their advanced cars, popular devices, and minimalistic designs, the Japanese are known for one of the greatest contributions to human history: Japanese cuisine. Having everything from savory sushi and sashimi to sweet cream puffs, Japanese food is beyond-a-doubt my favorite type of cuisine for its perfect combinations and fresh, light taste. However, it's very difficult to perfect this art, and there are only a couple of places in the area that serve proper sushi.
Fortunately, one of these places called Umeya (oo-may-ya) is located in Cresskill, crammed into the corner of a small plaza. On the outside, the restaurant looks like a run-down store owned by a woman in her 60's trying to sell freshly knit scarves that nobody wants. But when you walk into the actual restaurant, the ambiance changes to that of a typical sushi restaurant.
The restaurant's entrance is a narrow hallway that clashes with the interior's design. When I walked in, I didn't think much of the restaurant because of the overall aesthetic. Like all sushi restaurants, there is a classic sushi bar consisting of around 6-7 seats, and the rest of the space consists of tables with 2 or 4 seats. The restaurant seemed like it was rushed to be put together with poor quality seating and controversial choices of colors. It didn't seem to be dirty, but I wouldn't rate the cleanliness as an A+. All the plates and the tables seemed to be properly wiped down, but I wouldn't walk in and say, "Wow what a clean restaurant" or anything like that. The design itself wasn't completely horrible (it was actually kind of average), but I expected more from a potentially "authentic" Japanese sushi restaurant. But if I learned anything after visiting all of these restaurants, it's that I should never judge a book by its cover. So I patiently waited to judge the restaurant by its actual food.
We barely had to wait to get a seat, but I've heard that it's busy and hard to grab a spot around 7 pm. Also, the service somehow gets extremely slow starting at around that time: the dishes come out, it's hard to get the waiter's attention, and the order in which the meals come out gets messed up.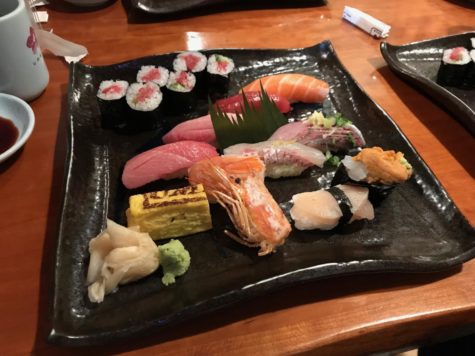 I ordered a sushi Omakase. In Japanese, the word "omakase" means "I'll leave it up to you." This is what Japanese restaurants call their chef's specials, and for most sushi restaurants, this dish consists of specific sushi and sashimi picked by the chef to serve on that day. The sushi Omakase was prepared with around 10 individual pieces of sushi for $37, making it slightly costly. However, the dish included one of the most expensive types of sushi: sea urchin (also known as Uni in Japanese). Being that a fresh piece of Uni sushi is usually around $8 – $10, the overall price of the Omakase was actually average for the quality and quantity.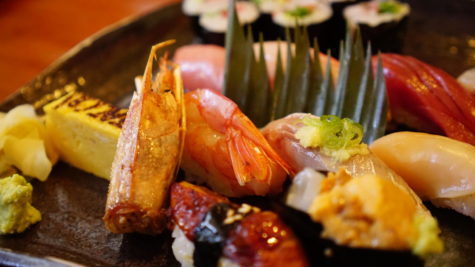 One thing that is unique with Umeya is that their fish actually looks, tastes, and feels fresh despite the fact that the restaurant is located in New Jersey with no body of water whatsoever. The Omakase plating itself looks very appealing with one piece of each type of sushi laid out equidistant from each other to individualize and distinguish each one.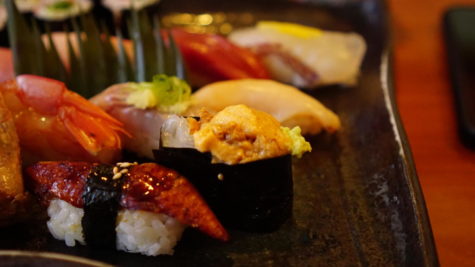 Now, the most important part: the taste. The service may be pretty bad at most times and the cost may be average, but the actual sushi tastes delicious. Whether it is the basic tuna or the expensive uni, every piece of sushi seems like it is melting in your mouth. Each one is perfectly shaped, and the rice to fish ratio is near perfect at most times. Although there is no marination on the fish, they are seasoned perfectly with only a small amount of soy sauce and wasabi. I would say that it was nearly perfect sushi, but that's almost impossible because of one factor that most chefs seem to disregard: the temperature. The piece is supposed to be served cool enough for the fish to feel fresh in the mouth but warm enough for the rice to feel nice and subtle to complement the fish. This subtle factor is what differentiates the other high-class sushi restaurants located in New York City from a local sushi restaurant like Umeya. However, this is the only downside of the food. If it wasn't for the temperature, Umeya would be serving a nearly perfect piece of sushi.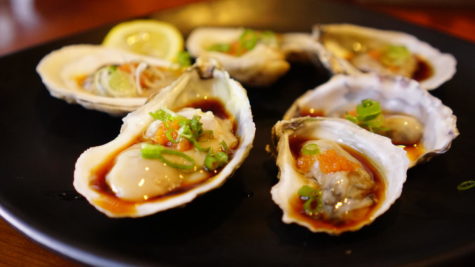 Overall, the restaurant was slightly disappointing when looking at its aesthetics. It is poorly designed and the location is not convenient since it is located in the corner of a random plaza. Also, the service wasn't that great either because everything was late. The only thing that I can compliment this restaurant for is their actual food, which is extremely delicious.
Service: 6.5/10 (Everything comes out slightly late)
Decor: 5/10 (Interior is just average. It's bad compared to other high-class sushi restaurants, but it is okay compared to regular restaurants in the area.)
Food: 8.5/10 (The food rating weighs more heavily than any other rating because it's only right that the restaurant to be rated on by its food.)
Atmosphere: 7/10 (Quiet restaurant; the atmosphere didn't really affect me because it was just a casual setting with not too much noise)
Overall rating: 7.5/10 (Although the food is delicious, the other ratings bring it down, so the restaurant overall is alright.)
Umeya is located at 156 Piermont Rd, Cresskill, NJ 07626