Hot Takes: Coachella 2023
Music, Drama, and Outfits. What else do you need in life?
Hey guys, welcome back to everyone's favorite part of The Lance: Hot Takes. As Coachella's second weekend has just wrapped up, we decided to give our opinions on two surprise duos in Coachella's music scene, one highly anticipated failed performance, two hot new couples, and some of our favorite outfits. 
Music
Labrinth, Billie Eilish, and Zendaya
Rename the entire event Labrinthchella at this point. During the first weekend of Coachella, Labrinth, a British singer known for being the lead artist on Euphoria's hit soundtrack, brought out Billie Eilish as a surprise guest during his set to sing 'Never Felt So Alone.' They quite literally brought the house down with the combination of their vocals. They are two of the best vocalists right now, so we really thought it couldn't get better than that. Yet, somehow Labrinth was able to run it back turbo and do it again, bringing out Zendaya during the second weekend. Us sitting at home like: Rue, when was this? The Euphoria duo sang 'All For Us' and we've never heard a crowd scream as loud as they did…as long as they did. I mean we were watching this on a livestream (while our computers sounded like airplanes about to take off), but the crowd was screaming louder than they had all weekend. But, trust us and our unstable computers, Zendaya's mic was on to overcome those screams. 
Frank Ocean
Even though Labrinth and his fantastic guests owned the weekend, there is a stain on everyone's wonderful memory of Coachella 2023. Frank Ocean's long-awaited performance at Coachella was not what many fans expected. He was an hour late because of his last minute decision to get rid of the on stage ice rink (and 120 performers), stayed backstage majority of the time, and played tracks rather than singing live. With a weak performance, concertgoers were disappointed, and wondered if Ocean himself was even ready to perform. Coachella holds a lot of emotional importance to Ocean, as he and his late brother, Ryan Breaux, used to go together. Ocean addressed this during his set, recalling some of his "fondest memories" with his brother at Coachella Valley. We just hope Ocean is okay and wishing him the best, regardless of how bad his set was.
Couples
Shawn Mendes and Camila Cabello
Coachella Valley is where all the celebrities go at the same time of the year, so drama is only a natural occurrence. Shawn Mendes and Camila Cabello were seen meeting up…and making out. We literally were just talking about Mendes and Sabrina Carpenter, but I guess Mendes' nostalgic feelings were too much and he gave Carpenter the boot. Although just weeks ago we were in full support of Mendes and Carpenter, we are now back in full support of Mendes and Cabello. Funny how that works… 
Bad Bunny and Kendall Jenner
BENITOOOOO! Bad Bunny, Puerto Rican rapper and singer, and Kendall Jenner seemingly confirmed their relationship when the two were seen attached at the hip during the first weekend of Coachella. Jenner was front and center dancing his performance…or at least trying to. C'mon Jenner: you're with a Latino man now, put some oompf in those hips! Anyways, we're super happy for Bad Bunny and his recent musical success, but we can't say we support his new relationship. We are still nostalgic for Jenner and her ex-boyfriend Devin Booker. We really thought Jenner and DBook were going to last, but Coachella's hottest couple proved us otherwise. 
Outfits
We decided to be positive today as we prepare to rip apart some of the upcoming Met Gala looks (stay tuned). Overall, this year's Coachella outfits were pretty successful, mixed in with an unexpected takeover of cowboy boots and chunky belts. About 90% (we are completely making this percentage up <3) of the women attending Coachella wore the boots and belts combo, which left us wondering: How did basically everyone get the same memo? Because you know we would've shown up in matching sparkly skirts sticking out like sore thumbs in the Boho fashion wave…
Emma Chamberlain 
One of our favorite looks this year came from none other than Emma Chamberlain. We absolutely love how she followed the trends this year in the best way possible. The denim on denim trend has not been our favorite, but Emma did it perfectly with a mini denim dress. Her white belt bag was much more stylish than the Lululemon belt bags we walk around wearing. The red shoes matching the red patch on her dress just pulls everything together. 10/10 from us Emma, but we can't say we are surprised.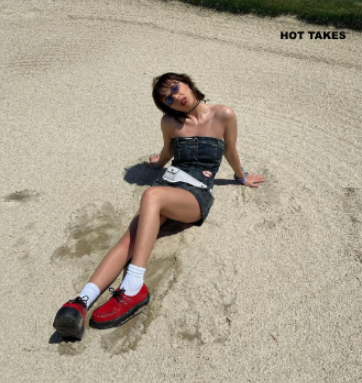 Zoi Lerma
Zoi Lerma, also known as zoifishh, is a content creator/influencer with six million followers on TikTok and over 400,000 on Instagram. While you may not know who she is, she was definitely making waves in the Coachella fashion scene. She said her outfits' theme was "Vanessa Hudgens circa 2016," and we all know Hudgens used to serve every single look when she went to Coachella. Honestly, Lerma did the same this year. One (literally just us) might even say Hudgens walked so Lerma could run. Lerma definitely incorporated this year's popular Boho style with everyone's go-to boots and belts combo, but somehow she just pulled it off so much better. We are huge fans, and we're expecting her to make her mark on the fashion world this year by kicking it off with Coachella.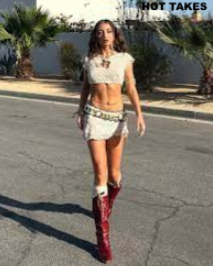 BLACKPINK
Sometimes the most entertaining parts of bands comes from their outfits (unless you are One Direction in their basic white tees), and BLACKPINK really outdid themselves. We are turning into quite the K-Pop fans, from us rooting for BTS at the grammys, to raving about BLACKPINK's amazing outfits at Coachella. To start they were dressed head to toe in pink, and you can't go wrong with pink. Their stylist kept them cohesive with different shaped corset tops and the same rhinestones on each outfit. Oh, and how could we forget to appreciate the fact that they wore all pink while being named BLACKPINK, now we are just left looking for the black.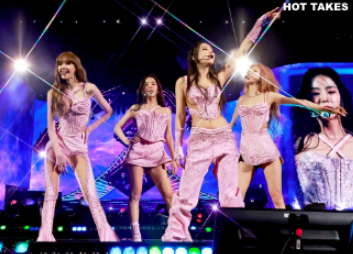 So, that's really all you have to know about Coachella this year. We can't say we loved everything, but we can't say we hated everything, which is definitely a positive thing. But, don't worry, with the Met Gala coming up, we cannot wait to give our opinions on what happens next. 
P.S. Do you guys think the entire Kardashian-Jenner family will be in attendance? 
XOXO, 
Liv and Charlotte