Boys Soccer Season Wrap Up
Through the ups and downs, the boys soccer team remained persistent and determined
As Wayne Valley celebrated their 2-0 upset win in the first round of states, NVOT remained on the field, huddled. When the seniors decided it was time to leave four years of memories, they walked off with arms wrapped around each other's shoulders. Even in the pain and defeat, they knew that their defining memory will be the brotherhood made along the way.
On the roster, underclassmen represent a majority of the team, a rare sight to see in the huge soccer program at NVOT. In comparison, the team had 14 seniors last year, but this season the seniors only make up seven of the players, half of last year. With limited veterans and doubts placed on them, the team came into the season as underdogs.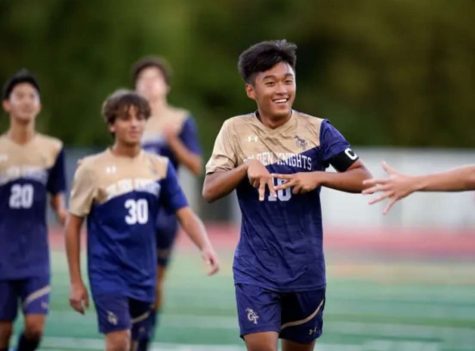 Led by senior captains Andrew Park, Andrew Demcsik, and Thomas Scott, who made the All-League team, the squad started the season off 6-0. "We were a team with depth, and we began playing our bench players like starters," says Park — nicknamed "AP" for his name and celebration. 
Plagued by injuries, the team began falling apart after a successful start, leading to them getting bounced in the second round of the Bergen County Tournament and losing the NJSIAA state tournament in the first. However, their end of the season performance does not undermine the individual players' milestones and momentum brought to the team.
Junior goalie Michael Greenberg racked up 69 saves on the season, contributing to the team's success in their league record and clutching up when necessary. "He's an energetic kid and his good energy and hard work holds our team together," says Scott. Greenberg received an honorable mention for All-League.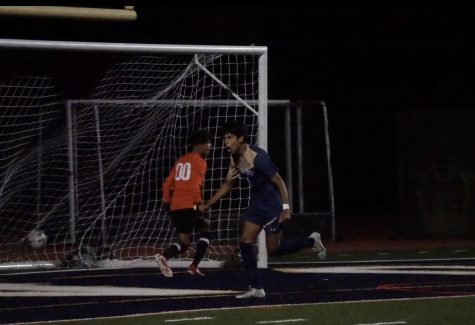 The stand-out player of the team, junior Kevin Contreras, greatly surpassed his teammates on the statsheet, with 18 goals and 3 assists on the season. Though injuries held Contreras back, he played 8 games where he averaged an 2.25 goals per game — marking him as the leading goal scorer in the conference. His early success led him to win the NJ.com soccer Player of the Week, as well as clutching a spot on the All-County team.
Second place in points on the stat sheet was sophomore Lorenzo Lago with 7 goals and 3 assists, and third was junior Goran Saric with 4 goals and 3 assists. Though individual accomplishments from the team may stand out, the chemistry between the team is not to be undermined. "Everyone was close and friends with each other, and the chemistry we had off the field really went hand-in-hand with our in-game communicative performance," says Scott. "We were a young team this year, but next year I am sure they will have the experience to back up their skill." 
Senior Sahaj Vaghasia said the team is a "strong family unit because we are all brothers on and off the field. We will continue to remain brothers and hopefully expand our family." 
"It's our final year here, and though we lost in the end, I am glad of the moments we made along the way with my class in the last four years," said Demscik, "It was emotional walking off the field for the last time with everyone."