Flipping into a League Championship
NVOT cheer goes undefeated to capture the 2022 league title
The gym was quiet as the 17 girls on the winter cheer team sat in a circle, clutching onto one another as they hoped to hear the words they had been waiting for. As the announcer came over the loudspeaker, the room went quiet as they shouted: "And in first place, Northern Valley Old Tappan." 
And just like that, for the first time since 2015, the girls winter cheer team captured the Big North League Championship. 
Across multiple competitions consisting of nearly ten schools at each meet, the girls have spent weeks perfecting their routine, helping them to capture the league title with a perfect 10-0 undefeated record. 
Senior Emily Galiano commented on the surreal moment: "As a senior all you want is to succeed as a team for your last season." And that's exactly what the Golden Knights did. The team is "made up of a lot of underclassmen," and according to Galiano, these girls "exceeded the wants and expectations for this season."
Their stellar performances did not come as a surprise to Coach Dana Errico, who noted the girls' commitment to their team: "Our athletes are extremely talented girls who dedicate many hours a day, all year long, to the sport."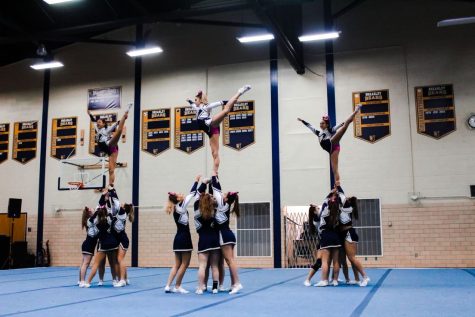 These long hours of practice and commitment is something that Galiano takes pride in as one of the captains of the squad: "We were all just so excited and happy to win week after week." She added, "The hard work, time, and dedication really paid off in the end". 
The Golden Knights will have a chance to further their season by competing in both the Big North Conference Championship on February 22 and the State Championship, on February 26.